12 February 2004 Edition
Branchmen deny concocting statements
BY FERN LANE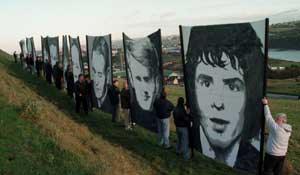 As the Bloody Sunday Inquiry entered its last week of oral hearings, three former Special Branch members who were present on the day gave evidence to the tribunal.
The inquiry heard how the statements of the men, Samuel Donnelly, Samuel Davidson and William Kilfedder, were almost identical and that, most significantly, all three only recalled hearing one shot, fired "from the direction of Rossville Street" on the day. All three at the time recorded in some detail the rioting they claimed to have witnessed from their vantage point in Sackville Street.
During their evidence, the inquiry was reminded of the statement of a member of 1 Para, Major Lewis, who recalled that when soldiers returned to their barracks at Victoria Street, which they shared with the RUC, they were greeted with congratulations and applause by the police, who "relished" what had happened. Donnelly, Davidson and Kilfedder, all of whom were present in the barracks, denied either witnessing or taking part in such a display of pleasure at the deaths which had occurred. They all also denied being involved in the mistreatment of civilians or of being party to the mistreatment and threatening of other detainees.
Under questioning by Tom McCreanor for some of the families, Donnelly denied that he had anything to do with the Special Branch intelligence assessment which was supplied for the period up to 3 February 1972, in other words for the time immediately after the march, to the Joint Security Committee in Belfast. This claimed that there had been prior intelligence that the IRA "intended to exploit the presence of the crowds as cover for their gunmen". The report was itself almost an exact replica of a report issued by British army HQ to the commander of 8th Infantry Brigade. Donnelly insisted that he could not recall having an information about the IRA's intentions on Bloody Sunday.
Donnelly was also asked whether the similarity between the three Special Branch officers' reports that they "heard one shot each and missed every other shot fired in that area" was "a coincidence". He denied that the men had compiled their reports together.
Under questioning by McCreanor, Samuel Davidson denied that his report of the day was written in conjunction with the other two. He also denied that Special Branch had ever concocted or falsified statements given by republican detainees, or that he had personally used physical force or verbal threats of internment when, together with William Kilfedder, he had interviewed an individual known only as Witness 'X', who had, according to the RUC, admitted firing on Bloody Sunday.
"I was also in action on Bloody Sunday at Rossville Street," Witness X is supposed to have said. "I was using a carbine. It was a joint operation. I was firing from Glenfada. I used two full magazines. I had four mags altogether."
Kilfedder, who like Donnelly and Davidson did not write his report until 7 February 1972, was also questioned by McCreanor. "Was your report to your chief superintendent and the complete absence of mentioning the hearing of shots, anything to do with the fact that you did not want to report that you had heard Army firing on that day?" he asked. Kilfedder denied it.
"Tell me," McCreanor continued, "was there any conspiracy of silence between police officers in order to cover up Army firing on that day? Is that why there is a complete absence of references to Army firing?"
"I do not know," replied Kilfedder. Like his two colleagues, Kilfedder also denied taking part in or witnessing in the congratulating of British soldiers on the shootings by police officers at the Victoria Barracks.