12 February 2004 Edition
Cullen decision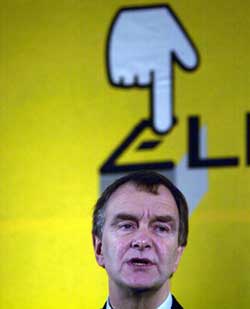 Sinn Féin Environment spokesperson Arthur Morgan reacted angrily last week to the announcement that the State's biggest industries will not actually have to cut levels of carbon dioxide emissions under Kyoto targets. Instead, they will be able to emissions trade with economies whose pollution levels are lower than agreed Kyoto limits.
"Cowardly" was how Morgan described Environment minister Martin Cullen's decision. Morgan said: "This announcement is deeply disappointing to anyone who is concerned about the affects of global warming and the future of the planet. It has been known for years now that if we are to address the problem of global warming and reduce emissions output, all states and governments will have to take difficult measures."
Morgan believes that government has to stand up to vested interests in order to tackle global warming. He told An Phoblacht that Cullen has capitulated to pressure from large industries and from his PD cabinet colleague Mary Harney, who has made public her support for emissions trading rather than acting to reduce emissions in Ireland.
"Industry and IBEC will gloat over this announcement but it will be ordinary citizens and consumers who will end up paying when carbon tax is introduced in 2005," said Morgan. "A phased introduction of carbon tax should be directed at the agents most capable of making the behavioral change to low emitting fuels and chief among those most capable of making reductions is industry. Ordinary taxpayers will also end up paying when this state is faced with huge fines for its failure to comply with the Kyoto protocol.
"Minister Cullen must abandon this misguided policy and ensure that industry, which produced one third of this State's emissions, is obligated to cut its level of carbon dioxide releases."