12 February 2004 Edition
Who do you think you are kidding Mr Murphy?
BY JOANNE CORCORAN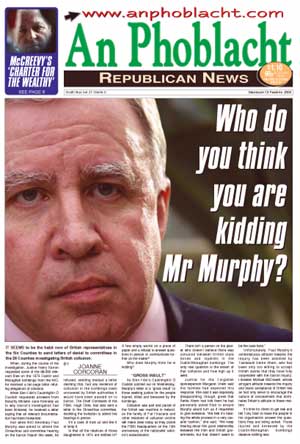 It seems to be the habit now of British representatives in the Six Counties to send letters of denial to committees in the 26 Counties investigating British collusion. When, during the course of his investigation, Justice Henry Barron requested some of the 68,000 relevant files on the 1974 Dublin and Monaghan bombings from the NIO, he received a ten-page letter refuting allegations of collusion. When Sinn Féin's Caoimhghín Ó Caoláin requested answers from Security Minister Jane Kennedy as to why Barron's investigation had been hindered, he received a letter saying that all relevant documentation had been forwarded.
And when NIO Secretary Paul Murphy was asked to attend the Oireachtas sub-committee hearing on the Barron Report this week, he refused, sending instead a letter claiming that, had any evidence of collusion in the bombings been uncovered by British authorities it would have been passed on to Barron. The Chief Constable of the PSNI, Hugh Orde, has also sent a letter to the Oireachtas committee, declining the invitation to attend the hearings in person.
It's a case of trust us and like it or lump it.
Is that all the relatives of those slaughtered in 1974 are entitled to? A few empty words on a piece of paper and a refusal to answer questions in person or communicate further on the matter?
Who does Murphy think he is kidding?
As Sinn Féin's Caoimhghín Ó Caoláin pointed out on Wednesday, Murphy's letter is a "gross insult" to those seeking justice for the people injured, killed and bereaved by the bombings.
Collusion was part and parcel of the British war machine in Ireland, as the family of Pat Finucane and other relatives of collusion victims will make clear today as they picket the PSNI headquarters on the 15th anniversary of the nationalist solicitor's assassination.
There isn't a person on the planet who doesn't believe there was collusion between British state forces and loyalists in the Dublin/Monaghan bombings. The only real question is the extent of that collusion and how high up it went.
Justice for the Forgotten spokesperson Margaret Urwin said the families had expected this response. She said it was especially disappointing, though, given that Bertie Ahern had told them he had personally asked Blair to ensure Murphy would turn up if requested to give evidence. "We feel it's treating the whole process in a very cavalier fashion," she said. "We keep hearing about this good relationship between the Irish and British governments, but that doesn't seem to be the case here."
Unfortunately, Paul Murphy's contemptuous attitude towards the inquiry has been assisted by Taoiseach Bertie Ahern, who has been only too willing to accept British claims that they have fully cooperated with the Barron inquiry. Likewise Michael McDowell, whose arrogant attitude towards the inquiry and bland acceptance of British lies as fact only serve to encourage the culture of concealment that dominates Britain's attitude to these matters.
It's time for Ahern to get real and tell Tony Blair to make the people in his organisation answer the questions they are being asked. Those injured and bereaved by the Dublin/Monaghan bombings deserve nothing less.