5 February 2004 Edition
Collusion families picket MI5
BY FERN LANE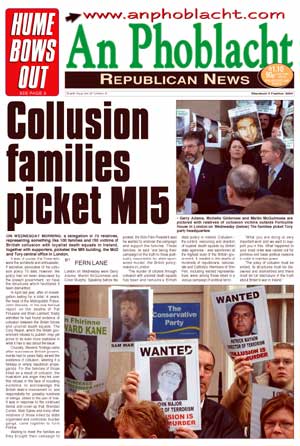 On Wednesday morning, a delegation of 70 relatives, representing something like 100 families and 150 victims of British collusion with loyalist death squads in Ireland, together with supporters, picketed the MI5 building, the MoD and Tory Central Office in London.
It was, of course, the Tories who were the architects and enthusiastic, if secretive, advocates of the collusion policy. To date, however, the policy has not been disavowed by the present government, nor have the structures which facilitated it been dismantled.
In April last year, after an investigation lasting for a total 14 years, the head of the Metropolitan Police, John Stevens, in his now famous report on the deaths of Pat Finucane and Brian Lambert, finally admitted he had found evidence of collusion between the British forces and unionist death squads. The Cory Report, which the British Government refuses to publish, may yet prove to be even more explosive in what it has to say about the issue.
Crucially, Stevens' findings came after successive British Governments had for years flatly denied the existence of collusion, labelling it a fantasy or simply republican propaganda. For the families of those killed as a result of collusion, the frustration and anger they felt over this refusal, in the face of mounting evidence, to acknowledge the British state's involvement in, and responsibility for, possibly hundreds of killings, added to the pain of loss. It was in response to the continued denial and cover-up that, Brendan Curran, Mark Sykes and many other relatives of those killed by state organised and controlled murder gangs, came together to form Fírinne.
Waiting to meet the families as they brought their campaign to London on Wednesday were Gerry Adams, Martin McGuinness and Conor Murphy. Speaking before the protest, the Sinn Féin President said he wanted to endorse the campaign and support the families. These families, he said "are taking their campaign for the truth to those politically responsible for state-sponsored murder, the British policy-makers in London.
"The murder of citizens through collusion with unionist death squads has been and remains a British state policy in Ireland. Collusion — the control, resourcing and direction of loyalist death squads by British state agencies — was sanctioned at the highest level of the British Government. It resulted in the deaths of hundreds of republicans, nationalists and Catholics. Members of Sinn Féin, including elected representatives, were among those killed in a vicious campaign of political terror.
"What you are doing is very important work and we want to support you in this. What happened to your loved ones was carried out for primitive and base political reasons in order to maintain power.
"The policy of collusion must be ended, its structures must be disowned and dismantled and there must be full disclosure of the truth about Britain's war in Ireland."