22 January 2004 Edition
Time for truth on collusion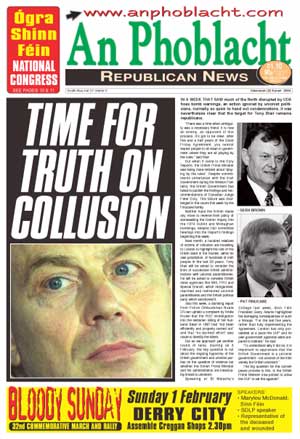 In a week that saw much of the North disrupted by UDA hoax bomb warnings, an action ignored by unionist politicians, normally so quick to hand out condemnations, it was nevertheless clear that the target for Tony Blair remains republicans.
"There was a time when ambiguity was a necessary friend. It is now an enemy, an opponent of this process. It's got to be clear, after five and a half years of the Good Friday Agreement, you cannot expect people to sit down in government unless they are all playing by the rules," said Blair.
But when it came to the Cory Reports, the British Prime Minister was being more reticent about "playing by the rules". Despite commitments undertaken with the Irish Government during the Weston Park talks, the British Government has failed to publish the findings and recommendations of Canadian Judge Peter Cory. This failure was challenged in the courts this week by the Finucane family.
Neither have the British made any move to reverse their policy of stonewalling the Barron Inquiry into the 1974 Dublin and Monaghan bombings, despite Dáil committee hearings into the Report's findings beginning this week.
Next month, a hundred relatives of victims of collusion are travelling to London to highlight the role of the British state in the murder, within its own jurisdiction, of hundreds of Irish people in the last 30 years. Tony Blair will be asked to consider the links of successive British administrations with unionist paramilitaries. He will be asked to consider British state agencies like MI5, FRU and Special Branch, which reorganised, rearmed and redirected unionist paramilitaries and the British political party which sanctioned it.
Also this week, a damning report from Police Ombudsman Nuala O'Loan upheld a complaint by Bridie Brown that the RUC investigation into the sectarian killing of her husband Sean in 1997 had "not been efficiently and properly carried out" and that "no earnest effort" was made to identify the killers.
But as we approach yet another round of talks, starting on 3 February, the key question is not about the ongoing hypocrisy of the British government and unionist parties on the question of violence but whether the British Prime Minister and his administration are inextricably linked to unionism.
Speaking at St Malachy's College last week, Sinn Féin President Gerry Adams highlighted the damaging consequences of such a linkage. "For the last five years, rather than fully implementing the Agreement, London has only proceeded at a pace the UUP and its own government agencies were prepared to tolerate," he said.
"To understand why it did so, it is important to appreciate that the British Government is a unionist government - not unionist of the Irish variety but British unionism."
The big question for the current peace process is this. Is the British Prime Minister now poised to allow the DUP to set the agenda?