15 January 2004 Edition
Flawed electoral law must be revisited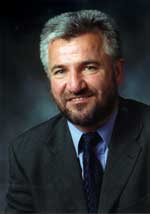 Sinn Féin Assembly member Davy Hyland, along with the party Director of Elections Danny Power and Omagh Councillor Seán Begley, attended the Electoral Commission Open Day in Malone House on Friday to discuss the conduct of the recent Assembly elections.
"It has now been widely accepted that the electoral process right from the registration process, through rolling registration and the conduct of the election itself and the count, was something of a fiasco," said Davy Hyland after the meeting. "Sinn Féin is determined to ensure that this situation is not allowed to arise again.
"Resources are clearly an issue for the Electoral Office and it is necessary that this is addressed. However, a much more pressing issue is the legislation upon which the electoral process is based. The legislation is deeply flawed and came about at the behest of the SDLP and Unionists as they sought to explain away the rise in the Sinn Féin vote. People who were disenfranchised at the last election are rightly angry at the actions of these parties.
"People within both the Electoral office and the Electoral Commission have acknowledged that if the current one-year term for each register is retained, then the register will continue to shrink year after year and more and more people will be disenfranchised.
"It is our belief that this situation can be resolved if common sense is applied to the electoral and registration process, the legislation is reformed and the necessary resources are given to the Electoral Office."