15 January 2004 Edition
Bogtrotters at the Castle Gates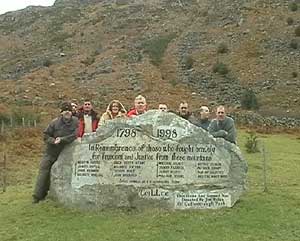 Three hardy Bogtrotters, Eddy O'Neill, John McCann and Donal Gannon, joined about 40 other walkers outside Dublin Castle just before midnight last Friday night. They were setting out for Glenmalure in the footsteps of the escapers Art O'Neill, Red Hugh O'Donnell and their guide, Edward Eustace. Art's half brother Henry, who also escaped, immediately did a runner on his own, much to the annoyance of Red Hugh.
The group of walkers assembled beside the same castle gates where about 12 years before this daring escape, another gentleman had set out for the same destination, Baravore in Glenmalure. This was the new Lord Deputy, Arthur Grey de Wilton, along with his army, commanded by Colonel George Moore. Deputy Grey considered Ireland to be "a land devoid of all moral and political order" and his particular hate was Feagh McHugh O'Byrne in Wicklow, who he now intended to slaughter and rid the land of forever.
The Deputy and his army got to the glen in good order but he thought it wise to leave in a bit of a hurry, leaving his army behind, where it still rests today at Baravore.
At the stroke of midnight, the walkers set off at a blistering pace, following roads and lanes across County Dublin into the mountains of Wicklow, arriving after 8am at Ballinagee, where a backup team of Bogtrotters and other wellwishers had set up camp.
Brian McNally was well prepared and supplied our group with hot soup, sandwiches and hot water for flasks. After this short break, the walkers set off with five more Bogtrotters joining in to lend support. The next short stop was at the plaque in the remote valley of Glenreemore. This plaque marks the area known as Art's Grave, where Art O'Neill died of his injuries and exposure in that bitter winter of 1592.
From here, our walkers started up the steep climb (about 500ft) to Art's Cross, overlooking the whole valley, with the Blessington lake showing in the distance. At this altitude, the weather was nasty, with low clouds and a strong bitter wind as we headed for the "three lakes". Then it was all downhill into Glenmalure in the shelter of the trees where Red Hugh found refuge among Feagh McHugh O'Byrne's people in the safety of this wild glen.
At a little after 1pm our tired group reached the river ford at Baravore, where Sinéad and Brian were waiting with a change of clothes, hot food and very welcome transport. Then, after a short stop for refreshments on the way, we all headed off home for a long and well-deserved sleep.