15 January 2004 Edition
Republican graves desecrated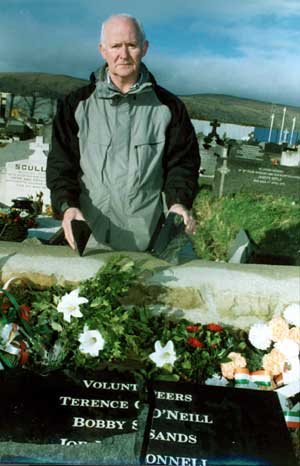 "It's very difficult to get into the mindset of these people. This must be someone with a political grudge and has taken it out on the family members of the Volunteers interred in the Republican Plot."
So spoke National Graves Association spokesperson Liam Shannon on discovering the destruction of up to 22 headstones on the graves of IRA Volunteers in Milltown Cemetery on Monday 12 January.
The headstone on the grave of the parents of the Sinn Féin President Gerry Adams was also smashed to pieces. Adams father, Gerry senior, was buried in November beside his wife Annie in the family grave, which is located close to the Republican Plot.
Shannon told An Phoblacht he was contacted by the PSNI on Monday morning and told that the Samaritans in Bangor had received a call from someone claiming to be from the 'West Belfast Hoods', warning that a pipe bomb had been left at the Republican Plot in Milltown Cemetery.
Initial searches for the pipe bomb was carried out by the PSNI with sniffer dogs but nothing was discovered although the PSNI, on discovering the damage to the graves, contacted Shannon.
"When I went to the cemetery I was disgusted by what I saw," said Shannon. "Twenty-two graves and family memorials were smashed, including headstones of the Hunger Strikers and the three Volunteers shot dead by the SAS in Gibraltar. Also, family wreaths and flowers that were laid at Christmas were strewn about the graveyard."
It was only later in the day, when family members of the dead Volunteers went to the cemetery on hearing of the damage, that a suspicious object was uncovered in a holdall bag.
British Army bomb disposal squads were called and after examining it declared the device a hoax. A number of items were taken away for forensic examination.
"The same thing happened here four years ago and it cost thousands of pounds to repair and we think the damage done this time will cost about £12,000 to repair," said Shannon. "The families will have to relive the pain of their loved ones' graves being destroyed and this reopens the grieving process. The fact is that all graves should be left alone. It's a crying shame that things like this happen."
Sinn Féin Councillor Michael Browne said that although local criminals were believed to be responsible for the desecration of the graves, no one should rule out loyalist involvement.
Speaking to An Phoblacht Browne said: "It is hard to know who was involved in the attack, however loyalists and local hoods have a history of colluding together in attacking republicans. This could be another example of them coming together to defile the Republican Plot and attack the heart of the republican community."