8 January 2004 Edition
Independent Monitoring Body - Smokescreen for Exclusion
BY JOANNE CORCORAN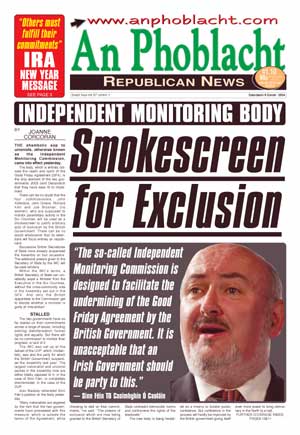 The shambolic sop to unionists, otherwise known as the Independent Monitoring Commission (IMC), came into effect yesterday.The body, which is entirely outside the realm and spirit of the Good Friday Agreement (GFA), is the only element of the two governments' 2003 Joint Declaration that they have seen fit to implement.
There can be no doubt that the four commissioners, John Alderdice, John Grieve, Richard Kerr and Joe Brosnan, (no women), who are supposed to monitor paramilitary activity in the Six Counties, will be used as a smokescreen to justify arbitrary acts of exclusion by the British government. There can be no doubt whatsoever that its attentions will focus entirely on republicans.
Successive British Secretaries of State have already suspended the Assembly on four occasions. The additional powers given to the Secretary of State by the IMC will be used similarly.
Within the IMC's terms, a British Secretary of State can unilaterally expel a minister from the Executive in the Six Counties, without the cross-community vote in the Assembly set out in the GFA. And only the British appointees to the Commission get to decide whether a minister is guilty of 'misconduct'.
The two governments have so far stalled on their commitments across a range of issues, including policing, demiltarisation, human rights and equality. But there will be no commission to monitor their progress, or lack of it.
The IMC was set up at the behest of the UUP, which, incidentally, was also the party for which the British government suspended the Assembly last year. The largest nationalist and unionist parties in the Assembly now are either totally opposed to it, in the case of Sinn Féin, or completely disinterested, in the case of the DUP.
Alex Maskey reiterated Sinn Féin's position on the body yesterday.
"Many nationalists are angered by the fact that the two governments have proceeded with this measure, which is outside the terms of the Agreement, while choosing to stall on their commitments," he said. "The powers of exclusion which are now being granted to the British Secretary of State contradict democratic norms and contravene the rights of the electorate."
The new body is being heralded as a means to bolster public confidence. But confidence in the process will hardly be improved by the British government giving itself even more power to bring democracy in the North to a halt.