11 December 2003 Edition
Homes attacked in West Belfast
BY LAURA FRIEL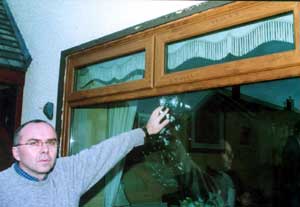 The homes of Sinn Féin Councillor Paul Butler and Gerry Kelly and the houses and family homes of other known republicans were attacked by loyalists in West Belfast last week. The attacks, which took place between 10pm and 11pm on Friday night, appear to have been carried out by the same gang.
This is the latest in a series of attacks against Butler and his family. Earlier this year, the Lisburn Councillor received a death threat when a card containing two bullets arrived in the post. More recently sectarian graffiti threatening Butler's life appeared in loyalist areas in Lisburn.
Initially, it was believed the homes had been hit with gunshots but further examination suggested steel ball bearings had been fired from a passing car. Whatever the weapon used, the missile smashed into the bulletproof glass of the Butler home, leaving bullet-like indentations but just failing to penetrate fully through the front living room window.
Six other houses were attacked along a route that took the assailants through Riverdale, Lenadoon and onto the Black mountain road above West Belfast. During each attack windows had been smashed.
"My partner and her two children were home at the time of the attack," said Paul. "Naturally, they were very frightened."
The fact that the attacks took place "on the back of Sinn Féin's electoral success" is believed to be a significant factor. Paul Butler narrowly missed taking an Assembly seat in Lagan Valley, Jeffrey Donaldson's constituency. As a councillor in one of the North's most notoriously sectarian unionist controlled boroughs, Butler has been subjected to a campaign of sectarian harassment and threats from both unionist politicians and paramilitaries.
There has been an upsurge in unionist paramilitary activity in Lisburn in recent weeks, culminating in the brutal sectarian murder of 21-year-old Catholic James McMahon last month. Two unionist paramilitaries questioned in connection with the killing subsequently appeared in court in connection with an illegal arms find in a house in the loyalist Hillhall estate. Darren Grant (25), from Ashmore Park and Anthony Madden (22), from Ashmount Gardens, were accused of having six machine guns, three pipe bombs and 2,000 rounds of ammunition.
Madden was refused bail at Belfast High Court on Tuesday 11 December.
Meanwhile, a group of Catholic schoolchildren were forced to flee during a weekend residential course in Bushmills after their accommodation was attacked by a unionist mob in the early hours of Monday night.
The pupils of St Aloysius' High School had travelled from Cushendall to take part in a residential course at the Bushmills Educational Centre as part of the PE ECSE. Stones and bottles were thrown at the accommodation block where the children were sleeping.
A number of windows were smashed. Fears for the children's safety promoted staff to abandon the residential course and immediately arrange for the children to be driven back to their hometown.