11 December 2003 Edition
Barron Report slams Dublin government - Evidence of collusion found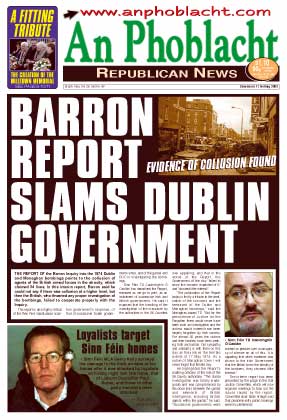 The Report of the Barron Inquiry into the 1974 Dublin and Monaghan bombings points to the collusion of agents of the British armed forces in the atrocity, which claimed 34 lives. In this interim report, Barron said he could not say if there was collusion at a higher level, but that the British, who thwarted any proper investigation of the bombings, had also failed to cooperate properly with the Inquiry.
The report is highly critical of the then Fine Gael/Labour coalition Government's response, of that of successive Dublin Governments since, and of the gardaí and RUC in investigating the bombings.
In a very strong statement, the Justice for the Forgotten group said the families felt "grievously let down" by the Government of the day and by the gardaí. They cited "incompetence and downright carelessness" on the part of the gardaí and drew attention to the close relationship between the gardaí and the British forces. They said the host of files relating to the bombings that have disappeared from the Department of Justice, with no reasonable explanation, is "damning in the extreme".
Sinn Féin TD Caoimhghín Ó Caoláin said the Report was an indictment of successive Irish and British Governments. He said it exposed that the handling of the investigation of the massacre by the authorities in the 26 Counties was appalling, and that in the words of the Report, the Government of the day "failed to show the concern expected of it" and "showed little interest".
"The publication of the Report today is a tribute to the dedication of the survivors and the bereaved of the Dublin and Monaghan bombings," said the Monaghan-based TD. "But for the persistence of Justice for the Forgotten there would never have been such an investigation and the victims would have been largely forgotten by Irish society."
He highlighted the Report's scathing criticism of the role of the 26-County authorities. "The Garda investigation was totally inadequate and was compromised by the close links between the gardaí and elements of British Intelligence, including British agents within the gardaí," he said. "Successive governments were content to preside over a conspiracy of silence on all of this. It is appalling that when evidence was shown to the Irish Government that the British knew the identity of the bombers, they showed little interest."
The interim report has been presented by the judge to the Dáil Justice Committee, which will organise meetings to probe the issues raised by the report. Committee chair Seán Ardagh said predominantly public hearings were his preference.