13 November 2003 Edition
Wicklow rolls out election team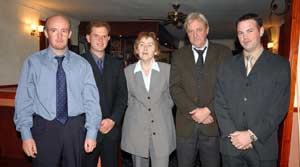 A confident Wicklow Sinn Féin election team, pictured above, will be fighting Town and County Council elections in the June 2004 elections. The party will be standing right across the county, putting forward the republican message to the electorate.
Marie Gavigan, who will be standing for Bray Town Council and the County Council, says Sinn Féin is about are offering a real change to the gombeen politics which have marred this country for so long. John Brady, standing for the party in Bray South Ward agreed, adding that all the other mainstream parties have been in power in Leinster House in some shape or form over the years and while big on promises and pledges they have failed miserably to deliver to the people. "While we don't hold the magic wand, we do hold a strong determination to break this cycle and to work within our local communities," he said.
David Gahan, standing in the Greystones County Council Ward, said there is a real yearning for change within the community and people are looking for a party that won't simply forsake them after the election.
Gerry O'Neill, standing in West Wicklow, said Sinn Féin will restore public confidence in politics by offering "a genuine change to the usual tripe people on the streets are used to", adding that it is the republican vision to empower people and to offer them candidates that they can trust.
Eamonn Long, standing for Wicklow Town Council, said "despite all the anti-Sinn Féin hysteria coming from the press, people can see way beyond that. They know who is doing the work on their behalf in their communities.
"It's not taking the seats that count," he says. "It's about breaking the out of date mould and restoring people's confidence in Irish affairs."
Navan selects Tobin
Due to very positive reaction on the doorsteps, Sinn Féin in Navan has decided to field a third candidate in the Navan Town Council and a second candidate in Navan County Council ward in the forthcoming local elections.
Peadar Tóibín will join Councillor Joe Reilly and Ann Gibney in the largest ever Sinn Féin team to contest local elections for Navan Town Council. A native of Bridge St, Navan, Tóibín has been a Sinn Féin activist since graduating with a degree in Economics and Politics from University College Dublin. To the fore in last years No to Nice Campaign, Peadar Tóibín also heads the Education Department of Meath Comhairle Ceantair. Speaking after his successful selection he said:
"I firmly believe that Sinn Féin can take three seats on Navan Town Council and a second seat on Meath County Council. On one hand we see the continued growth of the party in Meath and Navan due to the party's commitment, determination and energy. On the other hand, Fianna Fáil's mismanagement of the economy competes for headlines with Fianna Fáil corruption, while locally factories close and our hospital's A&E remains under threat."