13 November 2003 Edition
Promoting the all-Ireland agenda
BY LAURA FRIEL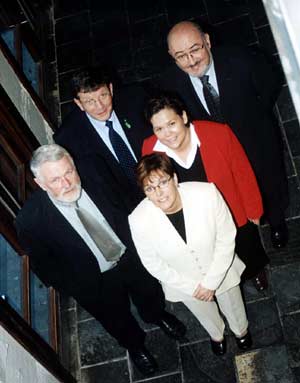 "No one can doubt that the all-Ireland political institutions exist because of the tenacity, determination and the substantial growth in support for Sinn Féin," West Tyrone candidate Pat Doherty told a Belfast press conference on Wednesday morning.
As part of its election campaign, the party was launching its ten-point plan for Irish Unity. The Sinn Féin Vice President was joined on the platform by TDs Caoimhghín Ó Caoláin and Martin Ferris as well as Ard Chomhairle member Marylou McDonald and Armagh Mayor Pat O'Rawe.
"Sinn Féin has made significant progress in advancing the all-Ireland agenda," said Doherty. "All-Ireland approaches and institutions are now universally accepted, even by the DUP. That is in itself significant progress."
The ten-point plan calls for a Green Paper for Irish Unity in the Dáil, an all-Ireland consultative forum and an all-Ireland charter of rights. The document also calls for rights of attendance in the Dáil for the 18 Westminster MPs and Northern representation in the Seanad, as well as an extension of the franchise to include votes for Six-County citizens in Presidential elections.
Sinn Féin will be taking the United Ireland agenda decisively forward after the election, Doherty told the media. "Sinn Féin is now the third largest party on the island and the largest nationalist party in the North. Our political strength, our political representation across the island and our clear focus on Irish Unity secured the establishment of the All-Ireland Ministerial Council and the All-Ireland institutional architecture of the Good Friday Agreement," said Doherty.