13 November 2003 Edition
Orangemen receive suspended sentences for riots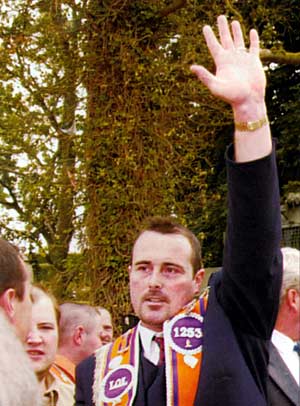 Sinn Féin Upper Bann Assembly candidate Dara O'Hagan has accused a judge at Belfast Court of leniency after he allowed 15 loyalists convicted of serious rioting at Drumcree to walk free with only suspended sentences.
O'Hagan said that "by allowing these men to walk out with non-custodial sentences, the judge is letting the Orange Order evade its responsibility for the violence it brings onto the streets during its parades and is telling the nationalist community that the justice system is biased towards unionists".
Leading loyalist and Orangeman Mark Harbinson was one of four Orangemen who, along with a part time RIR soldier and a Glentoran footballer, walked free from a Belfast court after Judge Kevin Finnegan handed down suspended sentences after finding them guilty of serious rioting at Drumcree in July 2002.
Nine other men were similarly treated at Belfast Court on Monday 10 November.
Judge Finnegan told the accused to count themselves "very lucky".
Finnegan commended the Department of Public Prosecutions for bringing the case before the Crown Court instead of the Magistrates court and said the attack on the PSNI, in the glare of the world's media, was "an outrageous episode which had brought shame not only on the men themselves, but their families and the Orange Order".
In court, prosecuting lawyer Jeffrey Millar described the 25-minute attack on the PSNI by a hardcore group of between 30 and 40 as "intense and very nasty".
32 PSNI members were injured, five of them seriously.
An unrepentant Harbinson from Stonebridge Court, Stoneyford thanked the Orange Order for their support and said the DPP and the PSNI should be trying to convict criminals rather than pursuing 15 law abiding citizens.
Harbinson, who was given a 12-month suspended jail term, was joined in his comments by 38-year-old Mark Wilson from the Beeches, Upperlands in Maghera, who insisted "this isn't finished".
Wilson, of the Ulster Protestant Movement for Justice, was given a suspended 18-month sentence.
Also receiving suspended jail terms were Orangemen Ivan Russell, 49, of Carbet Road, Portadown, given 12 months, while 27-year-old Paul Scott of Ashfield Heights, Stoneyford, and 39-year-old Paul Rea, Drumahoe Road, Larne, were each given 18 months.
Russell's son, 25-year-old RIR soldier Jonathan Russell, from Woodland Manor, Portadown, was also given an 18-month suspended sentence.
Glentoran footballer Jason Hill from Clareglen, Ballysillan, Belfast, and 18-year-old Alan Cheyne of Rogan Manor, Glengormley, each were bound over for a year.
David Cully, 44, from Gosford Gardens, Markethill, who was injured with a PSNI baton round during the riot, had his six-month prison sentence suspended for a year.
Freed with them on suspended jail terms ranging from 12 to 18 months were David Gibson 30, of Milewater Way, Newtownabbey; Stephen Haire 27, of Queen Street, Lurgan; Thomas McAllister 38, of Jervis Street, Portadown; David Clements 37, of Urbal Road, Cough; James McClean 25, of Glenbyrn Park, Belfast; and 39-year-old William Davidson, from Sugar Island Road, Bleary, Craigavon.
Commenting on the case Garvaghy Road Residents spokesperson Breandán MacCionnaith said it was unlikely that any internal disciplinary actions would be taken by the Orange Order on those members who were involved in the rioting.
"It was noticeable that two days before the trial commenced, Orange Order Grand Master Robert Saulters announced his support for those charged. The support by the leadership of the Orange Order for those charged was reinforced in court by the presence of the Grand Master of the County Armagh lodge and Grand Secretary to the Grand Orange Lodge of Ireland, Denis Watson.
"In previous years, the Orange Order took no action against those of its members who had engaged in violence or in open acts of intimidation directed against the Catholic community of Portadown. We do not expect that this ambiguity and ambivalence on the part of the Orange Order is likely to change in the aftermath of these convictions".
Report fingers community worker
A North Belfast community worker has rebuked the authors of a unionist community report for wrongly identifying her as a "high profile member of Sinn Féin/IRA" present during a contested Orange Order march — in spite of the fact that she has never been a member of Sinn Féin.
Speaking earlier this week, the worker, who wishes to remain anonymous because of fears for her safety, revealed she was not even in the country at the time unionists accuse her of being on the Ardoyne Road.
The report, entitled Community Inquiry July 12, 2003, was produced by the Greater Shankill Community Council and details the unionist version of events during a march past the predominantly nationalist Ardoyne during the summer of 2003.
The community worker — whose name is not being disclosed to protect her identity — was stunned and puzzled to find she had been listed alongside Sinn Féin activists who were observing the march from the Ardoyne shops on 12 July.
"I don't understand it. I'm not affiliated with any political party. I was not even in the country during the 12th. I was away. I have never even voted in my life."
The worker believes she may have been named in the report because she has been active in encouraging unionist orders to enter into dialogue with nationalist residents groups who oppose the Orange marches.
"At the end of the day, the Loyal Orders need to sit and talk to the people who live here," she said. "They need to engage with those in this community who are upset and offended by the parades.
"These marches cause great hurt to the nationalist community. They disrupt our lives, deny our freedom of movement, and are used as an opportunity to display sectarian triumphalism."
Although the shock of being misrepresented in such a potentially lethal way has taken the activist aback, she is adamant that it will not deter her from the work she is involved in.
"I am a parent first and foremost. I have to be concerned for the safety of my children. But I am not going to stop trying to make a positive impact to community relations on both sides.
"If my job in tackling those issues or trying to get the Orders to engage with nationalist residents offends anybody, they need to wake up. Issues like these are not going to go away unless those involved sit down and talk."
Meanwhile, An Phoblacht has learned that three nationalist families in the north Belfast area have been informed that they are under threat from loyalists.
Members of the PSNI visited homes this past Sunday night, telling the families their details were in the hands of unionist paramilitaries and that they should "update their security" but refused to give any additional details.
UVF behind killing
The UVF are believed to be behind the killing of 31-year-old John Allen at the flat he shared with his brother Aaron in Rashee Park in Ballyclare in the early hours of Saturday morning 8 November.
Allen died in hospital a few hours after he was shot in the head and legs by two masked men.
The PSNI are working on the theory that Allen was killed by the UVF because of his association with pub doorman Trevor Gowdy, who is living in England on the Witness Protection Scheme after making statements against UVF boss Mark Haddock.
Gowdy, from Ballyclare, and his family were forced to leave the Six Counties after a series of threats were made against them by the UVF.
Haddock is charged with attempting to murder Gowdy, who is set to take the witness stand at his forthcoming trial.
The dead man's family say he was killed by the local UVF, who were involved in a series of confrontations with John Allen in the past.
Allen's brother Aaron was left brain damaged following a previous savage beating by the UVF three years ago.
The PUP's David Ervine said he unreservedly condemned the killing, but dismissed allegations it had been the work of the UVF.
"It is my understanding that it was sanctioned at no level