6 November 2003 Edition
Ógra mural unveiled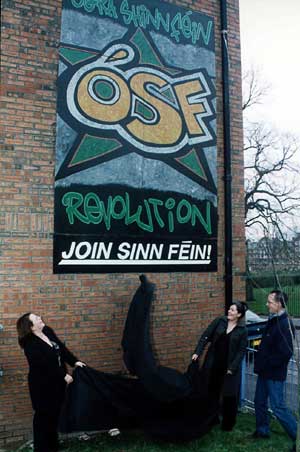 Speaking at the unveiling of a new Ogra Sinn Féin mural in West Belfast on Wednesday, Fermanagh/South Tyrone MP and Assembly candidate Michelle Gildernew, joined by two of our youngest Assembly candidates Cora Groogan (22, Mid-Ulster), Cliona O'Kane (23, East Derry) and North Belfast candidate Gerry Kelly, set out four key Sinn Féin demands.
"Ógra Shinn Féin is the fastest growing youth section of a political party in Ireland," said Gildernew. "We have recently completed a recruitment drive in colleges and universities across the island, the only party to do so.
"Young people within Sinn Féin are shaping our direction and policy regarding youth matters.
"We are demanding:
Voting age lowered to 16
Abolishing Student Fees
Student Grants to replace Student Loans
Minimum wage for 18 -21 year olds raised to same level as everyone else
Action on young people's insurance premiums
The party will be producing a separate Youth manifesto written by young people and relevant to their needs.