6 November 2003 Edition
McGuinness confident of gains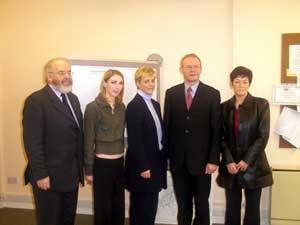 On Monday in Ballymoney Sinn Féin lodged nomination papers for four candidates to fight the Assembly elections in Mid-Ulster, Francie Molloy, Cora Groogan, Geraldine Dougan and Martin McGuinness as well as Philip McGuigan for North Antrim.
Speaking at the nomination, McGuinness was in confident mood. "In the last Assembly elections we elected three MLAs in Mid-Ulster and set the stage for success in North Antrim. Since that election, the Sinn Féin electorate has grown steadily in succesive local and Westminster elections in the two constituencies. I have no doubt that with the strong and dedicated team that we have put forward this time around in Mid-Ulster we will once more see growth in the Sinn Féin vote.
"And I have no doubt that Philip McGuigan, a young energetic and committed community activist, will be joining us in the new Assembly following 26 November to represent the people of North Antrim.
"Sinn Féin set the standard in the last Assembly and with the increased strength that I am confident we will have in the next Assembly, we will raise that standard to new heights. The increased political strength will enable us to deliver on equality of opportunity and outcome, on policing, on Education, Health Agriculture and on the all-Ireland agenda that will finally eliminate inequality and discrimination from our society. It will assist us to deliver the Ireland of Equals that we all deserve."