6 November 2003 Edition
Election campaign gets underway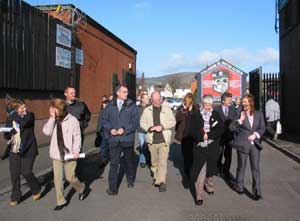 There's one thing that all political commentators agree upon. The forthcoming 26 November election is going to be a hard fought and a close run contest. The main media opportunity of this week was of party hopefuls handing in their nomination papers. Nominations for candidates contesting the 108 seats closed on Tuesday but most parties opted to present their papers a day early to avoid any last minute hitch.
The DUP arrived, displaying their usual combative style, in a contemporary version of the bandwagon, the "battle bus". DUP leader Ian Paisley, pictured at the wheel, posed for the cameras. Big Ian in the driving seat was the message but, sadly for the DUP, the subtext was equally evident. He wouldn't actually be going anywhere. In the driving seat and nowhere to go.
It was a point that became all the more obvious during a subsequent interview with the DUP leader. Despite his party's call for post elections negotiations, Paisley announced he had no intention of even speaking to Sinn Féin until they repented. "And," chuckled the malevolent old timer, "they won't EVER repent". It was clearly a case of all style and no substance or, as my mother would have bluntly put it, of all show and no knickers.
Meanwhile, the UUP was unveiling its second 'Simply British' poster and a ten-point charter to which, the party claimed, all shades of the UUP could endorse. Gone was the image of downmarket fish suppers and in was the image of the Mini Cooper, appropriately adorned with a Union Jack roof.
And you can understand the UUP's nostalgia for the 1960s and the bygone age of unionist domination and misrule. But the poster was no sooner unveiled than fighting broke out within the ranks of unionism.
UKUP leader Bob McCartney pointed out that the Mini wasn't REALLY British but Italian designed. For DUP candidate Peter Robinson it was REALLY German. Robinson suggested David Trimble was running for the Monster Raving Looney Party and McCartney described the UUP poster campaign as "Simply Foolish".
On the radio, Dermot Nesbitt was defending the UUP charter, or as the interviewer dubbed it, the Ten Commandments. Nesbitt doggedly tried to stick to his script of party unity and agreed positions. But there was only one question about the UUP launch of its election campaign on everyone's mind, "Was Jeffrey there?" "Was Jeffrey there?" repeated the interviewer like a mantra until finally a frustrated Nesbitt admitted his absence. "No Jeffrey then?" said the reporter. "No Jeffrey."
Meanwhile, the SDLP was busy shooting itself in the foot, not my words but the conclusion of a BBC interviewer talking to SDLP Belfast veterans Joe Hendron and Alistair McDonald. After weeks of whinging and whining, the SDLP leadership had obviously decided to make a clean break by coming out with their political guns blazing, but sadly it was less of a bang and more of a whimper.
Opting for negative campaigning and a post Hume strategy of encouraging nationalist disunity, the SDLP attacked Sinn Féin's record in office. As Minister of Health, Bairbre de Brún had "sleepwalked through her term in office" announced Hendron, a West Belfast GP.
The SDLP pledged to secure more funding and preside over "real change". De Brún's record as a Minister was one of "inaction, indecision and incompetence," Hendron concluded.
Sadly for this misguided campaign ruse, inaction and indecision on the part of the SDLP were precisely why the health portfolio came into the hands of Sinn Féin in the first place, as Sinn Féin's Gerry Kelly was quick to point out.
The SDLP was "too afraid to take the health portfolio in 1999," said Kelly. The media jumped at the chance of showing that when it comes to election launches the UUP weren't the only party whose choices had been "simply foolish".
If health was such a priority why hadn't the SDLP, given the choice in 1999, taken up the portfolio, asked Mark Devenport of the BBC. "It wasn't a priority in 1999," came South Belfast GP McDonald's lame reply. Inaction, indecision, incompetence, who needs to say more?
Launching its election campaign, Sinn Féin chose to highlight the party's AllIreland ethos and agenda, with candidates joined by Sinn Féin TDs, while beyond the media studios the party was getting on with the real business of fighting elections, door to door.
And on streets the message to party activists is that EVERY VOTE COUNTS. And if you consider how the vote translated into seats during the last election, it's not difficult to see why. According to the figures, the UUP can pick up seats with 2,000 votes less than Sinn Féin. The DUP picks up seats with around 1,000 votes less than Sinn Féin while for the SDLP the advantage is around 800 votes. This anomaly is generated by the transfer process.
Avoiding the temptations of election rivalry, Sinn Féin candidates will be calling for the nationalist electorate to consider carefully the way they use their vote. Sinn Féin might not be every voter's first choice but nationalist disunity can be a key factor in enabling unionists to secure seats beyond their electoral strength.
In many areas across the Six Counties, Sinn Féin canvassers will be asking SDLP voters for their 2nd, 3rd, 4th, 5th preference votes right down the line.
Another important factor for Sinn Féin will be making sure that those registered to vote actually make it to the polling booth on election day. The media tends to portray republican heartlands as strongholds of highly motivated voters but the sad fact remains that there are still many people registered to vote who do not choose to do so.
It is estimated that in Ardoyne, for example, around 5,000 people who secured a vote did not use it during the last election. There have been similar low turnouts in Ballymurphy, Twinbrook and Poleglass. Clearly, Sinn Féin activists will have their work cut out to address some of these difficulties but Sinn Féin's Director of Elections, Danny Power, is optimistic about his party's determination.
"If Sinn Féin has learnt one thing over the years, it's that nothing comes easily but despite many obstacles, Sinn Féin's ability to organise and motivate itself remains a crucial factor in moving both the party and effective nationalist representation forward," said Danny.