6 November 2003 Edition
Sinn Féin takes BBC to court over censorship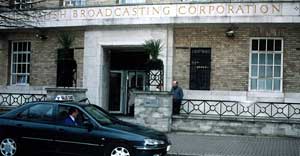 South Belfast Sinn Féin candidate Alex Maskey has accused the BBC of political discrimination and censorship after they excluded Sinn Féin from election coverage on Tuesday and Wednesday, 4 and 5 November. The party took the corporation to the High Court on Wednesday evening to challenge that decision.
The BBC claimed in its defence that interviews their reporters carried out with Martin McGuinness after he appeared at the Saville Tribunal in Derry, constituted election coverage for the party.
Maskey, speaking to An Phoblacht, said the decision to exclude Sinn Féin from its entitlement of election coverage was nothing short of political discrimination and censorship.
"Are the BBC seriously trying to claim that if a candidate from any other political party witnessed a news event that this would exclude his or her party from election coverage?" he asked.
Maskey added that Sinn Féin will not accept this situation. "We have suffered years of state enforced censorship and since then years of informal bias by the BBC."
In the High Court in Belfast on Wednesday, Judge Kerr heard arguments before adjourning the case until Thursday, urging the BBC to reflect upon its position.