30 October 2003 Edition
National Graves Appeal for funds for new monument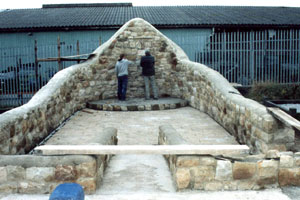 The National Graves Association (NGA), which is refurbishing the Republican Plot in Milltown Cemetery in Belfast and adding a wall of remembrance dedicated to fallen Volunteers from Belfast, is appealing for donations to cover the cost of construction.
Over the past number of years the NGA has been planning to redesign the memorial and considered many designs until they finally agreed on the wall project.
"The decision to erect a new republican monument did not come easy. There were concerns about the costs and the problem that it would be targeted by vandals or loyalist thugs, but in the end we felt strongly that the Volunteers buried in Milltown deserved a fitting tribute," said NGA spokesperson Liam Shannon.
The wall will be made from Sligo stone and include a couple of inserts explaining to visitors what it is and what it is about.
It will be high at the back, extending around to the front. The idea is that it will resemble arms embracing the Volunteers.
"It's quite a costly project but we feel the time is right to do it now," said Shannon.
The National Graves Association is appealing to the public for donations to offset the cost of the piece.
Donations can be sent to The National Graves Association, c/o 537 Falls Road, Belfast.