30 October 2003 Edition
Keenan honoured at Derry Volunteers' function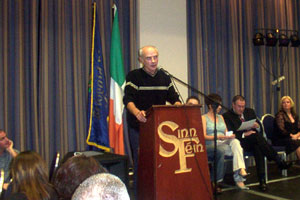 Derry Volunteers Commemoration Committee held its Annual Dinner Dance in the City Hotel, Derry, last Saturday 28 October. This year's event was in aid of the Colombia 3 Defence Fund and over £4,000 raised through a door-to-door collection was presented to Caitríona Ruane, co-ordinator of the Bring Them Home Campaign. Presentations were made to the families of Jim Monaghan, Niall Connolly and Martin McAuley, who were in attendance.
Tributes were also paid to the memory of Volunteer Paddy Mullan, who tragically lost his life in a drowning accident in July. Paddy's sister, former Sinn Féin Councillor Marion Hutcheon, and his father, also Paddy, received memorial presentations on behalf of the republican family.
As is customary at this event, Derry republicans each year honour an individual who has made an outstanding contribution to the struggle for freedom, justice and peace in Ireland. This year's recipient was lifelong Belfast republican Brian Keenan.
Brian, as with previous recipients, was unaware of the fact that he was to be the special honouree and attended the function oblivious of what was to unfold. While reading out the personal history of the honouree, Derry City Councillor, Maeve McLaughlin managed to mask his identity until almost the end of her delivery, when the penny finally dropped and Brian realised that he had been well and truly set up (the attached photos tell the story).
Unawares to Brian, his wife Chrissy, daughters Christina, Anne Marie, Jeanette and Bernadette, who had flown in from America to be with him - were outside the hall ready and deserving of sharing the honour with him.
When the family members joined Brian on stage and he had recovered his composure, former Hunger Striker and Assembly Candidate Raymond McCartney made the presentation to a worthy recipient of Derry's annual Outstanding Republican Award.