30 October 2003 Edition
Upper Springfield remembers its fallen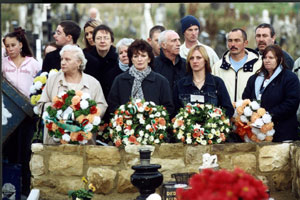 The 32nd anniversary of the death of Volunteer Martin Forsythe fell on 24 October last week.
The 19-year-old IRA Volunteer was shot dead in 1971 by the RUC just after the active service unit he was attached to left a bomb in a club in Belfast city centre. Two plain clothes RUC members shot Martin in the back and shot him again as he lay prone on the ground.
On Sunday 26 October, hundreds of republicans from the Upper Springfield area of West Belfast marched from Turf Lodge to the Republican Plot in Milltown Cemetery to remember Martin Forsythe and the other IRA Volunteers and Sinn Féin members who have, in the years since the death of Martin Forsythe, given their lives in the struggle for Irish freedom.
Before setting off from Turf Lodge, Robert Savage, brother of Óglach Seán Savage, shot dead by the SAS in Gibraltar, laid a wreath at the area's Garden of Remembrance.
Then the parade made its way through the narrow streets of an area that has seen some of the worst excesses of British military occupation.
We passed close to where Volunteer Kevin McCracken was killed by the British Army as he was about to launch an attack on British soldiers who were harassing mourners attending Seán Savage's wake nearby.
At Divis Drive, we stopped at the plaque erected earlier this year on the bus depot wall to commemorate Fian John Dempsey, killed by a British patrol within hours of the death on hunger strike of Volunteer Joe McDonnell.
On reaching the plot in Milltown the families of the dead lay their own personal floral tributes before the piper played a lament.
Sinn Féin Assembly candidate Bairbre de Brún gave the main oration.
She stressed the importance to republicans of remembering our dead. However she also told the gathering that, "we are determined to carry on the task of those generations before us who have sought to bring about a lasting peace in our country and to do away with the causes of conflict".
De Brún also told the crowd: "We live in challenging times in Ireland. We are entering a new age - an age filled with hope - a new age which carries with it new responsibilities and new challenges. We need to keep our nerve in this time of change and maintain a sense of who we are, what we have come through and how we have managed to adapt to circumstances throughout the most difficult of times."