30 October 2003 Edition
Children and youth safety week a great success
BY ÁINE Ní BHRIAIN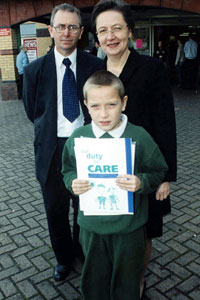 An initiative designed to help protect the health, safety and wellbeing of children and young people in the West Belfast areas of Twinbrook, Poleglass and Lagmore met with great public support this past week.
The Colin Neighbourhood Children and Young People's Safety week was launched to coincide with National Parenting Week. The event was organised by the Colin Glen Community Forum and included a course on child protection, activity training, and information seminars focused around the protection of children and young people.
The Forum also launched its "Child Protection and Welfare Policy Booklet," which it hopes will act as a reference for local groups working with young people, and has produced small portable "Care Cards" which list organisations offering support and help for young people.
The cards will be distributed to the public and local community groups throughout the area.
The weeklong initiative culminated in an information and signposting day at the Dairy Farm complex, with stalls showcasing local community and statutory agencies concerned with the wellbeing and safety of children - including NSPCC, local schools, the Health Trust, the Cedar Foundation and local youth projects.
Sinn Féin's Bairbre de Brún was on hand to offer her congratulations and present certificates of completion to the nearly 40 people who successfully participated in the Child Protection course.
The Children and Youth Safety week has its origins in the Colin Community Forum's Youth, Community and ECHO Capacity Building projects and is just one part of a co-ordinated strategy designed to protect children and young people while offering opportunities for them to achieve their full potential.
The ECHO programme, for example - which stands for Effective Choices Helping Ourselves - is a youth outreach project for marginalised young people in the Colin neighbourhood between the ages of 13-25.
The programme is designed by the young people themselves. They manage how it operates, while support staff help to facilitate it. In this way, the young people involved are able to tailor the project to address their own specific needs, and focus on issues that directly affect their lives.
The Forum also offers two Capacity Building Programmes to provide training to the community and voluntary sectors and to address the needs of young people in the area between 13-25 years of age.
Colin Forum ECHO project spokesperson Kevin Morrison says: "We realised what we needed was training for groups - particularly those who work with young people who might not be mainstream, who might not be established, but are still doing excellent work. They need to be structured in such a fashion that the young people they work with are protected and so are they.
"They need to know the issues, the signs, all the procedures to go through - so this week was partly about that and partly about examining issues like suicide and car crime. As a result, 37 people received certificates in Child Protection this week.
"Basically, that enables a dozen groups in this area with the capacity to work with young people to conduct that work in a safe environment. The children and young people are protected, the staff are protected. It was a massive success and it will help this area immensely."
Ian McPhearson, of the Down/Lisburn Health Trust says the Child Protection course is only one of the many available through the Trust. The courses are conducted by very dedicated trainers, who voluntarily give up their evenings and weekends to train others.
"The work we're doing is first-line prevention," says McPhearson. "A lot of money is spent on crisis intervention, but if you can prevent children from being abused in the first place, and create a safe, healthy environment for them, that's work that should also be targeted."
The Trust also runs a designated officer course and a three-hour disability awareness session that educate people with respect to the safety and protection of disabled children.
"Disabled children are more likely to be abused," says McPhearson. "They are more vulnerable around issue like communication and intimate care and don't have the same safeguards as able-bodied children."
The courses are in such demand that many are already booked until next February. More than 600 people have completed them in the last year alone.
Colin Capacity Build Programme Director Michael Ferguson criticised the lack of local provision for young people.
"We have the highest percentage of young people in either Belfast or Lisburn," says Ferguson, "and because we also have a poor social and economic infrastructure, it is crucial that we explore every avenue in order to reduce the vulnerability of our young people to the many social ills from which they are at risk.
"Poleglass alone has a population of 10,000 and 60% of those are young people under the age of 18. 15,000 people in the Twinbrook, Poleglass and Lagmore area are under 25 years of age. Youth provision currently caters for about 1,000, so that leaves 14,000 young people in this area who basically, have no provisions at all.
"Poleglass has a larger population than Moyle District Council. The three areas together are bigger than Craigavon and they went for city status! Can you imagine a small town without a shopping mall? Without a leisure centre or bank?
"We've got the demographics but none of the infrastructure. These programmes are about reducing the vulnerability of our young people and empowering them, while also 'skilling up' our adult population to protect them."
All the organisers of last week's events, and many of the participants, say they have been left frustrated by the media's negative portrayal of young people in the Colin area.
"The recurring theme we have heard from young people this week is that they are really feeling demonised," adds Morrison, "and this is one of the things that perpetuates this cycle of apathy and low self-esteem which prevents them from realising their full potential.
"There is a very small minority of young people engaged in criminal activity and the press has blown it all out of proportion. It's about responsible journalism. If a stolen car crashes into a house, that will get precedent over a group of twenty young people who have had a life-changing experience. We can't compete with that. That doesn't help us or the work we are trying to do. It only adds to a young person's feelings of alienation.
"This is about pulling people together. It's about working as a partnership, as a unit, to try and address all the relevant issues collectively.
"There are very positive things coming out of this area. This is only a start."