30 October 2003 Edition
Milk price war threat to producers
BY ROBBIE SMYTH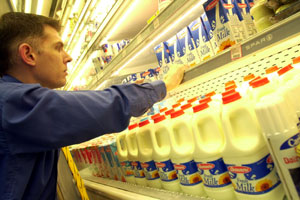 The Sinn Féin spokesperson on Agriculture, Martin Ferris TD, has attacked the threat by dairies to cut the price it pays for milk bought from farmers, due to the milk war between the major retailers. Dunnes, Supervalu and Tesco are currently engaged in a price war that has seen the price of own-label milk cut to 99c per two litres. As a consequence of this, the main dairies have warned farmers that they may be forced to pass on the cuts and to pay them manufacturing prices.
Deputy Ferris said: "There is no reason whatsoever that farmers should have to bear the brunt of the price war between the major retailers. If Dunnes Stores or any of the rest of them want to use milk prices as a means to seduce consumers into believing that they are getting better value then they ought to be prepared to subsidise that themselves and not expect the milk suppliers to pay for their phoney war.
"It is ironic that such a tactic used to be known as 'loss leading'. It is clear that the only people to lose out here will be dairy farmers."