30 October 2003 Edition
Council homelessness plan a 'disgrace' says Morgan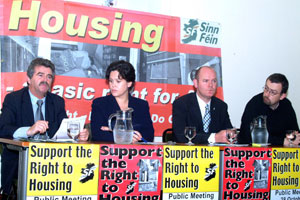 Dublin City Council's plan to remove homeless people from city centre's streets was attacked by Simon and Sinn Féin's Arthur Morgan at a housing meeting this week.
Under the council's plan, Parnell Square to St Stephen's Green has been designated a "public domain zone" with homeless people being moved out of the area.
Bob Jordan of the Dublin Simon Community described the initiative as an example of a "casual erosion" of the "civil and economic rights" of the homeless.
Jordan said: "Increasingly, if the establishment sees a homeless person, or even a person who just looks like they're homeless, it feels it can treat them as if they are not a citizen, can just eject them from the city centre".
Arthur Morgan, TD and Sinn Féin's spokesman on housing, said the council's "Public Domain" plan was a "disgrace" and was "in effect harassing people off the street who have already been harassed by government inaction".
Morgan said: "The homelessness situation has got worse under this government. We are in the last year of a homelessness strategy for Dublin and the numbers of homeless have gone up."
Morgan also highlighted Sinn Féin's campaign for a right to housing which would force government to use the range of measures, including legislation, statutory instruments, funding prioritisation currently available to address the housing crisis. It would also ensure that the voiceless and most marginalised within society will not be penalised by their lack of political strength or representation.
Spending cuts on housing would worsen crisis
Responding to reports that the ESRI mid-term review of the National Development Plan will recommend cuts in spending on housing Sinn Féin spokesperson the Environment, Heritage and Local Government Arthur Morgan TD has described any such move as "deeply misguided". ESRI will recommend that spending on local authority housing, voluntary housing and access to affordable housing should be cut. It has also been suggested that the ESRI is blaming spending on social housing for driving up prices due to shortage of supply and other constraints.
Morgan stated:
"I am disappointed that the ESRI would chose to point the finger at the spending on social and affordable housing as opposed the raft of government policies that have supported developers and speculators attempts to push up house prices.
"How can they recommend cuts in spending on social housing when there are still 48,000 households on the housing waiting lists, approximately 5,000 people homeless in the State and couples on average incomes being priced out of the housing market due the government inaction against speculators hoarding land? There is a massive amount of land zoned for residential use in this State which is undeveloped. On 30 June 2002 there was 22,456 hectares of undeveloped land which is zoned residential, 3,062 hectares of which are in the greater Dublin area. Is the ESRI suggesting that, in order to bring down the price of houses, we abandon those who need state assistance in order to house themselves and their families?
"I would like to see the ESRI address the lack of action against developers and speculators hoarding land, the shamefully low level of capital gains tax, the gutting of Section V of the Planning and Development Act 2000, the removal of the first time buyer's grant and the fact that this state is giving tax incentives to speculative buyers of second homes."