30 October 2003 Edition
Review no substitute for political institutions
BY LAURA FRIEL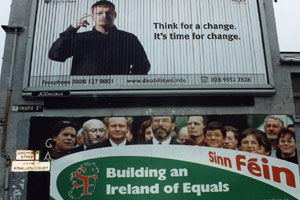 Sinn Féin Chief Negotiator Martin McGuinness, speaking on Wednesday at the launch of billboards for the party's election campaign, said that we need to ensure that the political institutions are re-established without delay after the elections.
He made his comments after the two governments issued statements on Tuesday saying they would continue efforts to secure a deal after the election and after Sinn Féin's dialogue with Ulster Unionists on the events of last week was also adjourned.
"As I said yesterday we are going to hit the ground running after this election," McGuinness pledged. "We need to ensure that the political institutions are re-established without delay after the election.
"We did make progress in our talks with the UUP and the two governments. We reached an agreement. This must be built upon.
"A review is not a substitute for institutions," he warned. "A review is best conducted in a positive atmosphere. That is with the institutions in place.
"In this election the DUP should not try to fool the electorate about their ability to achieve a renegotiation of the Good Friday Agreement. That is not going to happen.
"I believe that privately there are those in the leadership of that party who accept that.
"They should not be dishonest with the electorate."
UUP/SF relationship crucial
Speaking in Belfast on Tuesday along with Lagan Valley Assembly Cllr Paul Butler, McGuinness had pointed out that the new relationship between the UUP and Sinn Féin is something that holds great potential for the future.
"We have been able to sit down and talk through the difficult issues. Unfortunately the UUP were not prepared to move forward at this time but real progress was made and we will return to this work after the election," said McGuinness.
"So despite the present difficulties the dialogue between unionism and republicanism must be built upon. It is key to a new, shared and peaceful future.
"Our troubled history has left a legacy of division and mistrust on this island. These are real problems. But Sinn Fein sees these as difficulties to be overcome. We approach them as problem solvers and with a realistic sense of what is achievable.
"Sinn Féin is not going to walk away from the difficult issues. Nor will we be deflected by those who have done nothing over recent weeks except criticise our efforts.
"In the meantime, the two governments must fulfil their part of the agreement in terms of honouring the commitments which they made."