30 October 2003 Edition
Sectarian attacks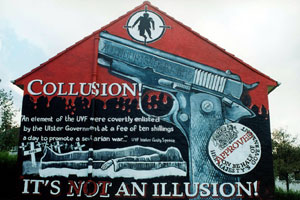 Collusion families still waiting for justice
A Tyrone coroner's battle to obtain unedited documents linked to a string of killings is going to the High Court, it was revealed this week.
Coronor Roger McLernon is taking the MoD and PSNI to court to obtain papers relating to ten deaths in which state collusion or a shoot-to-kill policy is suspected of being involved.
McLernon is probing the deaths of Catholic pensioner Roseanne Mallon and Jack and Kevin McKearney, who were killed by unionist paramilitaries. The office is also examining the cases of seven IRA Volunteers shot by the SAS in the early 1990s.
The MoD and PSNI have stated at previous hearings that the documents must be censored because some of the material is "sensitive".
But lawyers representing relatives of the deceased argue that the state is in breach of its duty and that the decision to withhold the material should be overruled by a High Court judge during a judicial review. They insist that the coronor must have access to all the documents in unedited form in order for him to do his job.
McLernon was forced to adjourn the 14th preliminary hearing of the inquests until 18 November to seek legal advice before making a ruling. He told a Dungannon court that he would either seek a subpoena to gain access to the documents or apply for a judicial review of the state's failure to supply the papers.
Fourth sectarian attack on Catholic church
A County Down priest says it could take up to a year to restore a hall damaged in the latest sectarian attack on church property in recent weeks.
Father Albert McNally says his congregation felt persecuted after the church hall of Our Lady of the Assumption in Newcastle was set on fire by arsonists in the early hours of Tuesday 28 October.
The fire, which is believed to have begun around 4:30am, destroyed the stage area of the St Mary's hall and also caused substantial smoke and water damage. The hall is located on the Main Street of the town.
"This is the fourth fire we've had in this parish, down this Main Street, in a matter of 15 months," said Fr McNally. "We've had the parochial house, the church, the old St Mary's church - which is sort of a youth club. We are feeling sort of victimised.
"There is fairly extensive damage to the building because of the burning. There is also water and smoke damage. We are faced with around a year's worth of work to re-do the damage caused. We are also having to find alternative locations for clubs and people who use the hall."
In May, the church was attacked twice within a matter of hours, first by arsonists and later when its windows were broken. In July, arsonists also targeted the nearby youth club.
Sinn Féin's Willie Clarke described the recent attack as sectarian and said the PSNI had failed to properly investigate the previous attacks.
Attacks in Armagh City
A retired couple are the latest victims of a series of sectarian attacks on homes in the Armagh City over the last week
The couple were treated for shock after a petrol bomb exploded at their home in the Lonsdale Villas area of the town.
The device was left on a window ledge and exploded in the early hours of Tuesday morning. The force of the explosion smashed the window and set the curtains on fire before causing smoke damage to the rest of the room. It is suspected that the device was attached to a firework.
There have been two similar attacks in the Armagh area within the last week. Less than 48 hours earlier, the home of a pregnant woman was targeted in another incident.
The expectant mother had to be treated for shock after the windows of her house were smashed and a flammable device was then thrown at the front of her property in the predominantly unionist area of Lisannally Gardens.
She had lived in the home less than a week.
Butler hit out at sectarian claims
Sinn Féin candidate for Lagan Valley, Paul Butler, has hit out at spurious claims of sectarian attacks in the Dunmurry area made in recent weeks by Democratic Unionist Councillor Edwin Poots and Ulster Unionist MP Jeffrey Donaldson.
In recent weeks the two unionists have made bogus claims that attacks on a house in the Arema area of Dunmurry and an attack last week on a pensioner's home in the loyalist Seymour Hill, when bricks were allegedly thrown at the windows, were sectarian.
Butler said the attacks referred to over the last number of weeks as sectarian have in fact been linked to anti-social behaviour in the Dunmurry area, in which both Catholics and Protestants have been targeted.
"To describe such incidents as sectarian is creating unease and concern throughout the Dunmurry area at a time when Sinn Féin and others are trying to help both the Protestant and Catholics communities build a better future for them and their families," he said.
Butler added that Sinn Féin has been taking steps to try and reduce sectarian tensions in the area. "This is why we have called for the removal of Irish national flags and took action over graffiti put up recently in the area which would be offensive to the Protestant community."
He said that unionist politicians should be trying to help lessen tensions instead of making alarmist claims without any firm evidence to back them up.
Young mother's address found on UDA disc
A young Ardoyne mother with two children was warned by the PSNI on Wednesday night 22 October that her address had been found on a disk they believed belonged to the East Belfast UDA.
The woman, who doesn't want to be named, said she is devastated by what has been revealed and that her life has been turned upside down.
"I have never been involved in politics of any description," she said. "My life revolves around my children and family. What has frightened me most was that it was only my address that was recorded on the UDA disc. This house was vacant for quite a while until we fixed it up and moved in and now we are targets because of it."
The woman said the PSNI told her to check under her car and review her personal security. "This is just a nightmare, all they gave me was a booklet to protect my family."
Sinn Féin Councillor Margaret McClenaghan called on nationalists to be very vigilant and for the PSNI to release all details on nationalists found in the hands of the UDA so people under threat can adequately protect themselves.
Meanwhile it has emerged that leaked British forces montages, similar to intelligence papers handed over to British Army agent Brian Nelson, have turned up on a New York-based website that specialises in highlighting international intelligence. Photos and other details were posted on to the website last week.
Photo lists like the ones published on the internet were passed to unionist paramilitaries including Nelson to be used by UDA death squads to target nationalists. This led to political uproar as it helped expose collusion between members of the British forces and unionist death squads.
PSNI watch as known loyalists tear down SF election posters
Sinn Féin East Antrim Assembly candidate Oliver McMullen has accused the PSNI of standing by as known loyalists tore down Sinn Féin election posters in Glenarm.
Cllr McMullen said: "Sinn Féin election posters were taken down this weekend in Glenarm by known loyalists yards from a PSNI barracks.
"The active intervention of known loyalists in the Assembly election is a matter of concern, particularly given the history of loyalist violence throughout East Antrim," said McMullan. "The fact that PSNI members in a barracks just yards from where some of these posters were torn down is also very worrying.
"Throughout this area the tacit refusal of the PSNI or the RUC before them to challenge loyalist violence and intimidation has made the situation very difficult for nationalists and republicans.
"I would urge leaders within political and paramilitary unionism as well as community and church leaders to ensure that we do not an escalation of this type of intimidation."