2 October 2003 Edition
Edward Said dies
BY ROBBIE SMYTH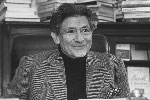 The Palestinian cause lost one of its most tireless and articulate voices over the last 30 years when Edward Said died last week, after a ten-year battle with leukemia. Said, 67, was a professor of literature at Columbia University. His written work spanned unstinting advocacy of the rights of Palestinians while also rewriting our understanding of colonialism and imperialism in English literature.
Said's publications included Orientalism in 1978, Covering Islam (1981), The Question of Palestine (1979) Culture and Imperialism (1993), The politics of Dispossession (1994), Peace and its Discontents (1996) and his memoirs titled Out of Place published in 1999. Said also served on the Palestine National Council - a representative assembly of the Palestinians in exile from 1978 to 1991.
This is only a snapshot of what became a huge body of work, covering not just academic writing, but essays, articles, interviews, lectures and some incredible TV documentaries.
It would have been easy for Said, Princeton educated with wealthy parents, to have become the well presented academic and acceptable face of Palestinian rights, mildly criticising Israeli excesses, but Said never succumbed to such a bland role.
He railed against the injustices inflicted on the Palestinian people. He became a determined activist for their cause. Equally important to Said's advocacy of Palestine was his challenging through academic work of western perceptions of the Middle East and Asian culture, leading him to coin the term "Orientalism".
In the aftermath of 9/11, Said's work was even more relevant. He summed up the media simplification of the Middle East in a radio interview last year when he said the identifying of the 9/11 hijackers as Muslims "becomes the symbol by which we talk about the Islamic world". Said expanded, saying that we are forgetting that "we're really talking about 1.3 billion people and that it would be as appropriate to talk about the problems of Christianity when we discuss fascism".
Said's opponents dubbed him the "professor of terror" and in recent years centred criticism on his actions throwing rocks at an Israeli border post in 2000 or faulting details in his memoirs.
It seemed that, unable to undermine the quality or veracity of his arguments, Said's opponents had to resort to the personal, highlighting only their own shortcomings. His friends and comrades across the world will miss Edward Said. His voice is quietened but his legacy of work will be always with us.