2 October 2003 Edition
Government reneges on first time buyers in Finglas
BY MARTIN SPAIN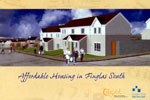 Some of the 60 lucky recipients of homes in a new affordable housing development in Finglas, Dublin, may yet be denied their mortgages if the government has its way.
The houses are being built by independent, non-profit group, Tógáil Developments, in cooperation with Dublin City Council, which provided the land for the project. The prospective residents won the right to the affordable homes in a draw held last year, but some now face the possibility of losing their chance of a first home because the government is threatening to renege on a promise to allow them avail of the first-time buyer's grant. If the residents are not in their homes by 13 November, the grant will be withdrawn, says the Department of Finance.
According to Tógáil's Fiona Cormican, the government made commitments that the grant, which was abolished last year, would still be extended to these new residents. This €3,800 was vital to many of the prospective residents in securing mortgage approval and these people are now worried that they may lose their homes before they even get a chance to move in.
"We gave the government a schedule for the completion of the houses, which clearly stated that only the first of them would be occupied by Novermber, and this was good enough at the time. It is the Department that has moved the goalposts," said Cormican.
Junior housing minister Noel Ahern is said to have offered a verbal assurance that the recipients will receive the grant as long as they are in their new homes before Christmas, but to date there has been no official confirmation of this position.
Ria McDonnell of the local residents' group said "it's a disgrace that they are even thinking of this. The children deserve their chance of a first house."
Local Sinn Féin Councillor Dessie Ellis echoed these sentiments. "This government has made it hard enough for people to afford a home as it is," he said. "This is the sort of progressive housing development that gives ordinary people a chance of owning their own home at a price they can afford. The difference in price between these houses, which sold in the vicinity of €140,000 and €160,000, and the astronomical price of similar three-bedroom homes on the open market, shows the level of profiteering that goes on in this sector.
"For the government to be effectively threatening to take houses away from these people because it has decided to break another promise is a cruel and disgraceful act. I would call on the minister to give these people an immediate assurance that their grants and their homes are secure."