2 October 2003 Edition
Under Siege - Bertie blasted on first day back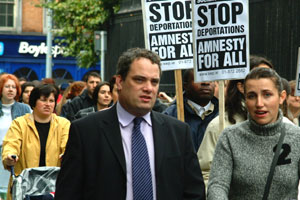 As these photos show, an impressive array of citizens with grievances gathered outside Leinster House this week as the Dáil resumed.
Among them were anti bin charge protestors. There were children from Drogheda, who, like so many in the state, want a decent school. There were peace activists. There were people who were abused as children in state and Church run institutions. There were people whose children have Irish passports but who are facing deportation because the government won't grant residency to the parents.
This was in a week when one of Bertie Ahern's TDs was outed as a tax cheat and another was caught driving under the influence after he knocked down a pedestrian. They are not in jail, however, although another TD is serving a month in Mountjoy for protesting an unjust double tax on behalf of his constituents. Just another double standard.
"The debacle over the tax affairs of Deputy Michael Collins demonstrates that the Taoiseach's promise to stamp out corruption had about as much impact as being struck over the head with a sock full of feathers," commented Sinn Féin's Caoimhghín Ó Caoláin.
The party has called for closer co-operation among the parties of the broad left in the Oireachtas in opposition to the FF/PD government's "Thatcherisation of Ireland".
Republicans want to see not only a real opposition but a real alternative to the broken promises and conservative policies of the coalition government.
The electorate was deceived by Fianna Fáil and the PDs before last year's General Election. In the area of health alone the people were promised an end to waiting lists within two years and medical card cover for an extra 200,000 people. These and other promises were acts of deception.
The people at the gates this week are demanding answers, they are demanding justice, they are demanding more than this corrupt government can or wishes to give.