28 August 2003 Edition
Close Sellafield for good - Thorp closure welcome but not enough
BY MARTIN SPAIN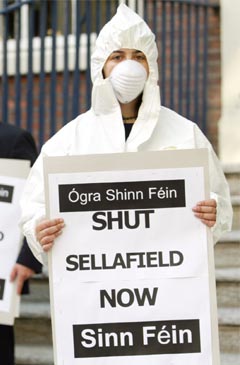 And so the Thorp nuclear reprocessing plant is to shut down by 2010. Are we supposed to be grateful, now that BNFL has been forced at long last to end the nuclear madness that saw shipments of radioactive waste steaming through the Irish Sea like giant timebombs?
Are we supposed to thank the British for creating this nuclear cesspit opposite our eastern seaboard, which now contains 75 tonnes of plutonium, 3,336 tonnes of uranium and 1,575 cubic metres of highly radioactive liqud waste, all of which must be stored for 250,000 years before it is safe to humans?
Are we supposed to be thankful that, with luck, this vast mountain of deadly material may not be added to past 2010?
Louth Sinn Féin TD Arthur Morgan TD has welcomed reports of the closure but says the nuclear monstrosity should never have opened.
He also points out that we need details of what actions are to be taken in relation to all other activity at the Sellafield site, which has caused almost an epidemic of cancer on the East coast of Ireland generally and in Louth in particular.
Thorp is just one of a numer of nuclear facilities at the Sellafield site in Cumbria. There are also three old experimental reactors, four shut down nuclear power plants, including the Windscale Pile One, the site of the world's first nuclear accident n 1957, when it caught fire. The name of the site was subsequently changed to Sellafield for PR purposes, a bit like trying to erase the murderous history of the UDR by renaming it the RIR.
A change in direction by the British government has been signalled since the recent publication of the British White Paper on Nuclear Energy. Since Blair overruled then Energy Secretary Brian Wilson's plan for 20 new nuclear plants, people on both sides of the Irish Sea have been hopeful for movement towards the closure of the Thorp plant.
But the BNFL site now represents a huge nuclear waste dump, and the Thorp facility could still be used to reprocess material from dismantled nuclear reactors across Britain.
Arthur Morgan had this warning for those who might become complacent about the Sellafield threat: "Because we could never believe a word BNFL said, it is important that neither the government of this State nor the Irish people should in any way lessen their campaign for the closure of all operations in Sellafield."