6 April 2006 Edition
6 April 2006
The killing of Denis Donaldson in Donegal on Tuesday was not carried out by republicans or by any friend of the peace process. In no way did it serve a republican agenda. We don't yet know who was responsible but the question that must be asked in all of this is who gains? Whose agenda does it serve?
Opponents of the Good Friday Agreement are trying to use Denis... Free article
An Phoblacht Magazine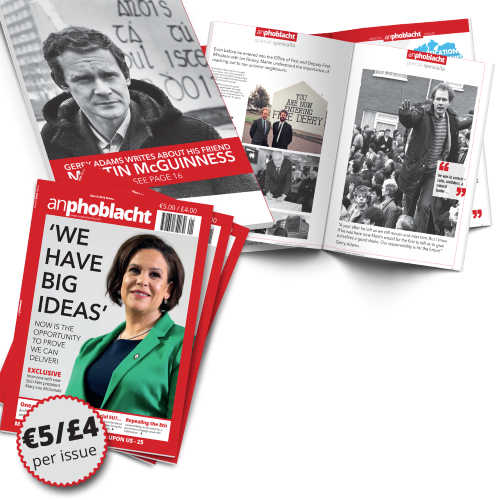 AN PHOBLACHT MAGAZINE:
The first edition of this new magazine will feature a 10 page special on the life and legacy of our leader Martin McGuinness to mark the first anniversary of his untimely passing.
It will include a personal reminiscence by Gerry Adams and contributions from the McGuinness family.
There will also be an exclusive interview with our new Uachtarán Mary Lou McDonald.
test