19 March 1998 Edition
Television: The chosen ones
by Sean O Donaile

Sex in a Cold Climate Channel 4 Sun

The 50 Year War BBC2 Mon

Dance Lexie Dance RTE1 Sun

Fr Ted Channel 4 Fri

``Bless me father but it's been ten and a half years since my last confession''. It's been so long that I've nearly forgot what my sins were - throwing stones, taking money from my mammy's purse and driving over my next door neighbours cat.

Sins were all the rage in the 40s and worse again sins of the flesh as featured in Channel 4's shocking documentary ``Sex in a Cold Climate'', which followed the lives of four young women incarcerated in the ``Laundries'' which over the last century held up to 30,000 women deemed unfit for society.

Bridget Young had the added bonus of growing up in an orphanage, where ``modesty'' was in vogue. ``We used to have to make ourselves as flat as pancakes with straps on our breasts'' and swinging our hips. Looking at your body or having long hair was taboo.

Sexual ignorance was rife and this led to thousands of teenage pregnancies, among them Christina Mulcahy who was committed to one of the ten Magdalen asylums for ``fallen'' women. Martha Cooney was unfortunate enough to be indecently assaulted by a relative and even more unfortunate to open her mouth and at fourteen was committed.

Bridget was considered ``too attractive'' and might ``fall away'' and this led to her imprisonment. These women were victims of society's prejudices and the reign of terror inflicted by the church on many of our people at this time was equal to the evils of Unionist misrule in Stormont, with women taking the place of Catholics as second class citizens.

The women were furnished with brown shapeless uniforms on arrival and sent to work in the laundry, purging their ``sins'' by washing dirty linen, sometimes having to wash the semen off priestly garments, worn by men who had abused them while supposedly blessing them.

When a girl complained of such behaviour to the nuns she was usually met with a haircut, a beating or a deaf ear.

Cut off from the outside world the girls were forced to work from dawn to dusk 52 weeks a year, with no recreation, as this was to ``atone for your wickedness''. Nuns acted as ``screws'' with leather belts and scissors replacing batons and acted accordingly, forcing the women to kneel before them and beg for mercy if a ``transgression'' occured.

Christina was one of many separated from their newborn, ``I was breastfeeding and she was taken from me with no goodbyes'' and the laundry served to break the remaining bonds between mother and child. Inside many women heard of their child's ``sale'' and their only recourse was to cry.

The women were strictly segregated from the orphanage as ``sinners are from the devil'' and any contact, sometimes between a mother and child, was met with a shaved head and a beating with black rubber hosing. There were some escapes, including the spirited Christina, who was finally reunited with her child 50 years later, but some women remained imprisoned there until death.

Documentaries such as this reveal a litany of shocking cruelty and abuse inflicted by the Catholic church with the support of society, and further revelations can only help to exorise the memories of such''concentration camps''. Its legacy is a lasting hostility to the church - ``all I saw was a bunch of bullies and devils dressed up as nuns''.

Some would argue that the Israelis have treated the Palestinians in a similar manner, as featured in the first of a six part series on BBC2, ``The 50 year war: Israel and the Arabs''. In the aftermath of World War 2, many Jewish refugees fled to Palestine and many more were forced to follow after being refused entry to the USA.

Palestine was in the death throes of British colonial rule and yet again the British left a divided people. With the same foresight as James Connolly US secretary Marshall was in no doubt that the favouring of one section of the populace ``would lead to strife'', but this didn't stop the US and the United Nations giving recognition to the Israeli state under Ben Gurion, who wasted no time in expanding its borders.

The British-trained government death squads used the same tactics as in central America in the 1980s ``eliminating'' Arab villages and massacring their inhabitants, leading to the flight of nearly a million Palestinians, clearing the way for Israeli settlements, which continue to this day. According to those involved ``we had no choice'' and Ben Gurion stated, ``it doesn't matter what the world thinks''. Any resultant attacks from border Arabs were met with savage retaliation and undercover bombers were sent into Egypt to provoke war.

The more reasonable prime minister Sharrett, who was engaged in secret talks with General Nasser's Egypt, was repeatedly shafted by Gurion's rightwingers, and this eventually led to an Israeli invasion of Egypt, with the support of guess who?. And you thought the Kibbutz were all about sitting around campfires singing Bob Dylan.

On a lighter vein ``Dance Lexie Dance'', a Raw Nerve production from Derry, a short film which portrays a developing father-daughter relationship. It has been nominated for an Oscar.

In the wake of her mother's death Lorna wants to become a Riverdancer, but Lexie reminds her that ``we don't do those things'', but like all good fathers, Lexie was wrapped around his little girl's finger and after practising with the aid of a video tape, Lorna taps her way across the schoolyard, on the kitchen table and at the bus stop as Daddy fixes the hems in her new dress in preparation for the Feis.

There wasn't quite 295 kids, screaming parents and harrased old men in tweed jackets as there are at most feiseanna, but Lexie proved to be an able cheerleader and Lorna produced the goods. It concludes with an acceptance by both of the mother's death and a double jig on the shores of Lough Foyle.

Finally, for those of you with a childish sense of humour Fr Ted is back and the initial episode took on such serious topics as racism, the Nazi regime, the abuse of alcohol, and black socks. Despite the demise of a youthful Dermot Morgan the show has already achieved cult status.

Ted's dead - Long Live Ted!
An Phoblacht Magazine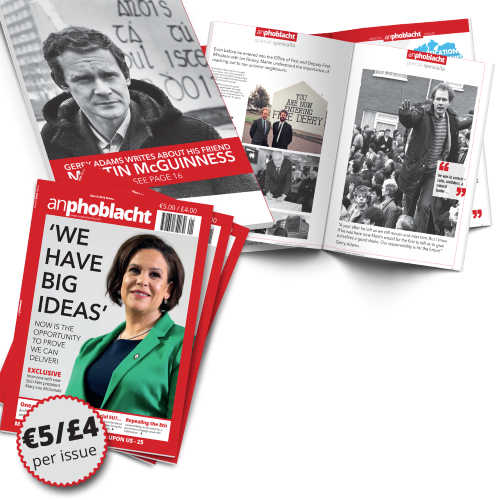 AN PHOBLACHT MAGAZINE:
The first edition of this new magazine will feature a 10 page special on the life and legacy of our leader Martin McGuinness to mark the first anniversary of his untimely passing.
It will include a personal reminiscence by Gerry Adams and contributions from the McGuinness family.
There will also be an exclusive interview with our new Uachtarán Mary Lou McDonald.
test