13 June 2018
Parties join together to call for rights to be protected from Brexit
"We share a profound concern that Brexit will result in further regression on equality and rights." - Joint statement
The leaders of the anti-Brexit parties in the North have issued a joint statment calling for rights and equality to be protected from Brexit. 
The joint statement, signed by Michelle O'Neill from Sinn Féin, Colum Eastwood of the SDLP, Naomi Long of Alliance and Steven Agnew of the Green Party, follows on from a similar initiative by the leaders voicing their opposition to Brexit. 
In the joint statement, the parties express "profound concern that Brexit will result in further regression on equality and rights." 
It also welcomes the commitment in the joint report from the EU and British government in December that there should be no diminution of rights as a result of Brexit and called for this to be reflected in the Withdrawal agreement and protocol. 
The leaders express a common position that the current Brexit negotiations should ensure there is "no diminution of rights, safeguards and equality, including as set out in the Good Friday Agreement 1998 and subsequent agreements" and call for an explicit guarantee to be given in relation to the European Convention on Human Rights and the European Charter of Fundamental Rights. 
"We urge all political parties and both governments to intensify their efforts to ensure that outstanding rights and equality matters (including the Bill of Rights) are advanced as a matter of urgency," it states. 
An Phoblacht Magazine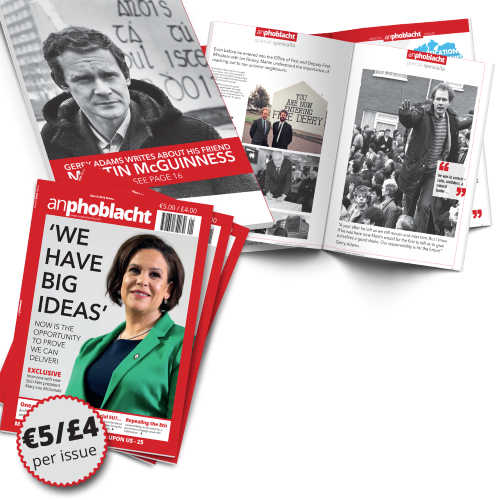 AN PHOBLACHT MAGAZINE:
The first edition of this new magazine will feature a 10 page special on the life and legacy of our leader Martin McGuinness to mark the first anniversary of his untimely passing.
It will include a personal reminiscence by Gerry Adams and contributions from the McGuinness family.
There will also be an exclusive interview with our new Uachtarán Mary Lou McDonald.
test