13 June 2018
Sinn Féin publish Ard Fheis clár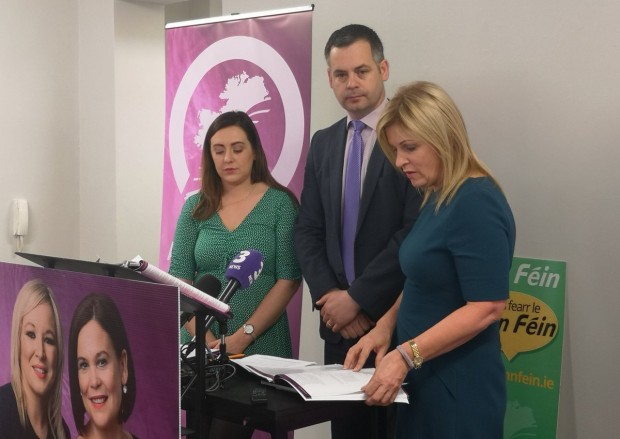 "Sinn Féin wants to be the voice of a new generation that is demanding change and which sees Irish Unity, not only as desirable but essential to the future prosperity of the island and to delivering their rights."
Thousands of Republicans from across Ireland will gather in Belfast's Waterfront Hall this weekend for the Sinn Féin Ard Fheis. 
The two-day event will be will be opened by the newly eelcted Sinn Féin Mayor of Belfast Deirdre Hargey on Friday evening. 
The clár for the Ard Fheis was launched in Dublin this morning by Pearse Doherty TD and Megan Fearon MLA and outlines the motions which will be debated by delegates. 
The theme for this year's Ard Fheis is 'a new Ireland', and Sinn Féin Dáil Deputy Leader Pearse Doherty said it will also focus on party development, Brexit and creating an all-island economy.
More than 3,000 people are expected to be in attendance over the two days of debate on more than 170 motions. This year's Ard Fheis will be a historic event as it is the first under the new leadership of Mary Lou McDonald and Michelle O'Neill, elected by the party membership earlier this year.
Rights and accountability in public life are two issues that will dominate throughout the weekend with specific emphasis on women's rights, marriage equality, Irish language rights and the rights of those with a British identity in a United Ireland.
Speaking at the launch the Donegal TD said:  "Sinn Féin wants to be the voice of a new generation that is demanding change and which sees Irish Unity, not only as desirable but essential to the future prosperity of the island and to delivering their rights."
The Ard Fheis will also be setting out how Sinn Féin intends to build on the reconciliation work of Martin McGuinness and the outgoing President of the Methodist Church in Ireland, Rev Dr Laurence Graham will address the Ard Fheis during our live session on Saturday which will be shown on both RTÉ and BBC television. 
A new feature of this year's Ard Fheis will be launched on Saturday afternoon as Michelle O'Neill will open a new, 'Standing with Women' section, which is about demanding a step change in how society views and treats women.
Speaking to An Phoblacht, Pearse Doherty said;  "This is about delivering a new Ireland where women have their voices heard and are paid equally, treated equally and where the same abortion rights exist for women North and South."