22 March 2018
Portrait of Martin McGuinness unveiled at Stormont
"So when people ask what is Martin McGuinness' legacy, I tell them it is one of leadership. It is one of integrity. It is one of generosity. And I tell them it is always one of choosing hope over fear." - Michelle O'Neill
 A new portrait of the late Martin McGuinness was unveiled at Stormont today to mark the first anniversary of the death of the republican icon and former deputy First Minister. 
The portrait, showing a smiling Martin McGuinness applauding, was formally unveiled in the Great Hall of Stormont's Parliament Buildings by Martin's widow, Bernie, and Sinn Féin vice president Michelle O'Neill. 
Martin McGuinness' children, grandchildren and other family members were also at Stormont for the unveiling. 
Representatives of a number of political parties, including former DUP First Minster Peter Robinson, were also in attendance, as well as members of the family of the late Ian Paisley.  
There were also representatives of the worlds of sports, arts, and culture from across Ireland at the launch. 
It is the first portrait of a republican to be unveiled at Stormont, a site once synonymous with unionist misrule and domination. 
Speaking at the launch, Michelle O'Neill paid tribute to the dignity of the McGuinness family. 
"It is with a broken heart, but a heart that is bursting with pride, that we remember and celebrate his life a year on from his sudden passing.
"He was our leader, but he was Bernie's beloved husband, a father, grandad and brother.
"We will never forget the sacrifices that his family have made through many long and difficult years.
"Over this past year the McGuinness clan have symbolised Martin's legacy as they attended the many events in his honour with great dignity and selflessness, while grieving their own personal loss.
"I hope that his family can take some comfort from the knowledge that Martin gave so much of his life, his time and his energy to make the lives of others better and to build a better future for all our people," she said.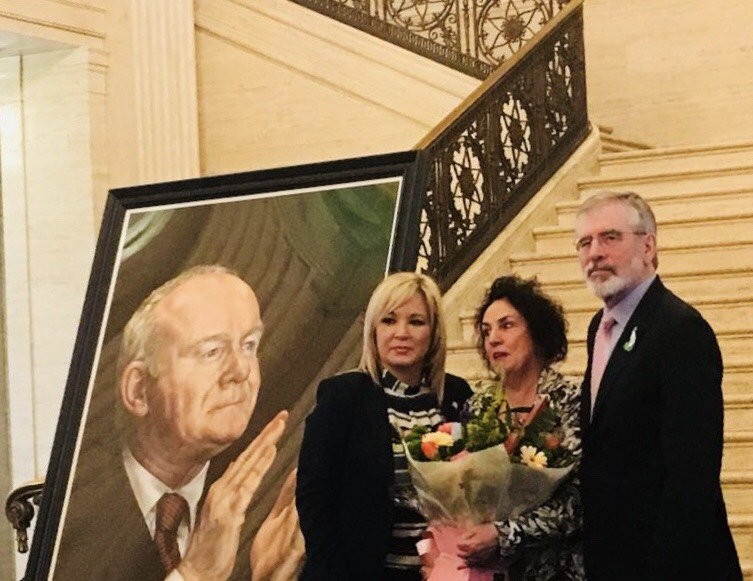 Michelle O'Neill also said the legacy of Martin McGuinness will be one of hope. 
"As a true leader he stretched and challenged his own supporters from within republicanism and nationalism in his determination to reach out with an open hand in friendship to our unionist neighbours– to unite Orange and Green.
"We all need to turn a corner together and enter a new era together.
"And now Martin's portrait will hang proudly in this building and watch over us, we seek to build that new and better future together.
"So when people ask what is Martin McGuinness' legacy, I tell them it is one of leadership.  It is one of integrity.  It is one of generosity.  And I tell them it is always one of choosing hope over fear," she added.