22 March 2018
Committee agrees to contact Taoiseach after Sinn Féin motion to abolish SCU passes Dáil vote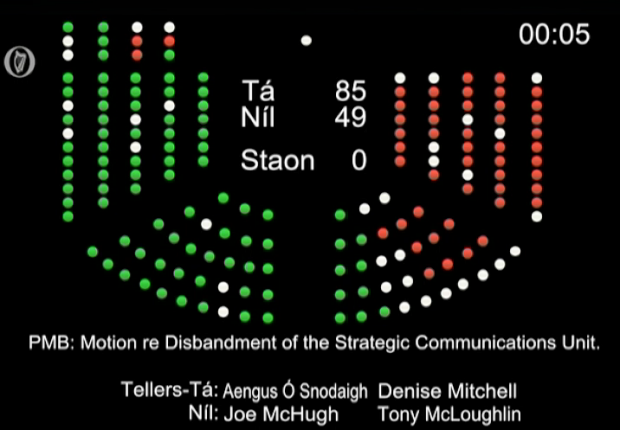 "It is now time for Leo to accept this result so that we may move on and restore some of the faith which has been lost in politics over this botched Fine Gael experiment in self-promotion." - Pearse Doherty TD
The Public Accounts Committee (PAC) has agreed to write to An Taoiseach, after an overwhelming majority of TDs have voted to support Sinn Féin's motion to abolish the government's Strategic Communications Unit.
85 TDs voted in favour of the motion which aims to see the immediate disbandment of the "spin unit", with 49 TDs voting against.
The motion was put forward by Sinn Féin after it was revealed that the unit was nothing more than a highly expensive PR Unit for An Taoiseach Leo Varadkar and Fine Gael, all at the expense of the tax-payer.
The party had also called on Deputy Varadkar to appear before the Oireachtas PAC  to give details for the spending of public monies by the Strategic Communications Unit.
After a meeting this afternoon, the Committee has agreed to write to An Taoiseach Leo Varadkar on the disbandment of the Strategic Communications Unit.
David Cullinane, Sinn Féin TD for Waterford, has welcomed the PAC's decision and said that today's result demonstrates "that no party, bar Fine Gael, can abide the use of public monies to host party political roadshows and exploitation of the media".
Deputy Cullinane said: "The Taoiseach outrageously commented that he and his Government would disregard the will of the Dáil when it comes to his spin unit earlier this week.
"Not only is this a worryingly authoritarian attitude to adopt, it demonstrates that propaganda is more important to the Taoiseach than good governance."
Sinn Féin's deputy leader in the Dáil, Pearse Doherty TD, welcomed the support for the motion and called for the government to act and abolish the unit.
Speaking after the vote, Deputy Doherty said: "It is now time for Leo to accept this result so that we may move on and restore some of the faith which has been lost in politics over this botched Fine Gael experiment in self-promotion.
"We now need get on with the real issues, such as health, housing and homelessness, which continue to affect the lives of those we are here to represent. The motion is about accountability, which is something that is sorely lacking in this State."
This follows criticism of the SCU over its handling of advertisements placed in local newspapers promoting the development plan for the country, 'Project Ireland 2040'.
The advertisements, which cost €1.5million were made to look like regular news articles and featured Fine Gael election candidates.
This was described by Gerry Adams TD politicians as "an unacceptable and blatant abuse of political power".