21 March 2018
Martin McGuinness - ordinary but at the same time, exceptional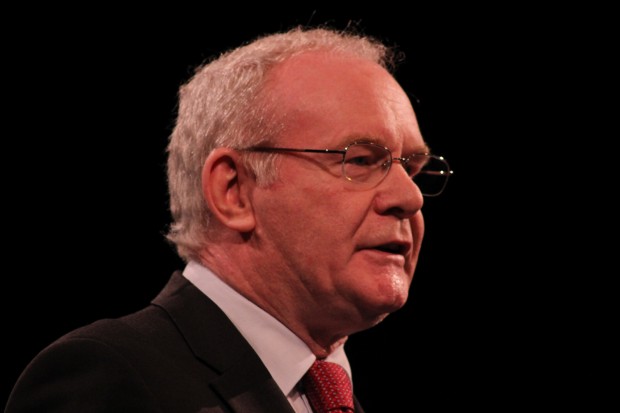 "His life-task was to create a united, independent, peaceful Ireland. In pursuit of that goal he stretched every fibre of his being, engaged all of his massive energy and talents in the task." - Jude Collins
 The thing about Martin McGuinness that struck me immediately was his straight-forwardness.  It's a quality not unique to Derry people but you're more likely to find it there. An example: shortly after being nominated as Minister for Education, he was shown into his office by civil servants. The new Minister glanced around and nodded: "Nice desk!".  When the civil servants asked him how he'd like to be addressed, he shrugged: " 'Martin' will do". As Christy Moore sang, an Ordinary Man. And at the same time exceptional.
I first met him in the Noughties.  At the time I was a lecturer in Ulster University, conducting some obscure research which included an interview with the Minister for Education. Martin was contacted and he agreed to a filmed interview.
There were three of us from Ulster University – a sound technician, a camera man and me. As it happened, the sound technician was a strong unionist who wasn't too enthusiastic to discover that his job would include meeting and recording Martin McGuinness. "One sure thing," he declared. "I'm not shaking that man's hand."
When Martin entered the room for the interview, he smiled and shook hands first with me, then with the cameraman, then… you guessed it; the unionist sound technician's hostility melted in Martin's straightforward warmth. Hostility is resistible but down-to-earth decency is unstoppable.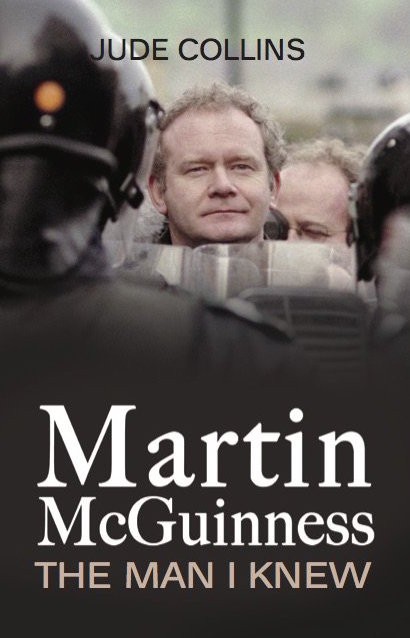 In the past year, in compiling interviews for my book  Martin McGuinness: The Man I Knew, one of those interviewedwas Peter King. As most know, the Republican Congressman played a key role in the 1990s when with others he persuaded President Bill Clinton to grant a visa to Gerry Adams and later Martin McGuinness. King told me that he worked on the belief that once people in the States were exposed to Gerry Adams or Martin McGuinness face to face, the media caricature they'd been carrying in their heads would collapse.
King's view was repeated with other interviewees. Again and again, people like Jonathan Powell, David Latimer, Eileen Paisley told me of their surprise  when the media-projected monster turned into the pleasant, unassuming figure in front of them.
It went beyond being friendly. Martin McGuinness had the ability not just to make you feel at ease, but he turned it around: you were made to feel that he was pleased and even privileged to be in your company.  I have a photograph on my study wall that attests to that. It was taken in 2002 by Hugh Russell, at the launch of one of my books. I'm busy signing my name on the fly-leaf of the novel and Martin stands beside me, hands clasped, beaming like someone who's just been accorded a significant honour. As if.
He had, of course, other qualities besides charm. He mightn't thank me for the comparison, but he shared one character trait with Charlie Haughey. After the 1970 arms trial,  Haughey was ostracised within his own party, Fianna Fáil. It seemed impossible that he could ever recover his former status. But Haughey decided it would happen, worked the rubber chicken circuit in different constituencies over the years, and ended up as Taoiseach.
Martin had that same quality of patience of unstoppable perseverance. When he decided to commit himself to a role or a goal, he committed himself fully. His daily commute from Derry to Belfast and back each day was typical. Common sense said he should stay overnight in Belfast. But Martin liked to end the day with his wife and family, so that's how it was. Derry to Belfast and back, every day, again and again. You could see how that quality of absolute commitment must have helped make him the formidable combatant he was during the years of conflict. It served him equally well when he opted into politics. If he was going to do politics, he was going to do them the way they should be done.
This steely resolution, I would judge, was contagious.  In her interview for my book, the new Sinn Féin president Mary Lou McDonald talks about working with Martin and The Look. How, if you'd done something sloppily or partially, Martin didn't start a shouting match or even a verbal rebuke. Instead, he produced The Look. One experience of that Look was sufficient to make you resolve never to act in a way that'd merit a second Look.
That was because he was a man who set the highest standards for himself and expected others to do likewise. Aodan Mac an tSaoir,  who worked closely with him over many years, told me of Martin's habit of establishing contact at any hour of the day or night. No good to plead the need for a night's sleep. "No republican should be sleeping when there's a crisis going on!" Aodan remembers him saying.
When I was a pupil in St Columb's College, Derry, in the 1950s, we used to have organised debates, with topics chosen by the staff. One I remember still was "That this house believes it is more important to live for Ireland than die for Ireland."  Martin McGuinness didn't die for Ireland, although I've little doubt he risked his life many times. But whether as a military combatant or politician, he lived his life for Ireland. His life-task was to create a united, independent, peaceful Ireland. In pursuit of that goal he stretched every fibre of his being, engaged all of his massive energy and talents in the task. He gave of himself until finally there was nothing more to give.
Greatness identifies itself through one ever-present  feature: modesty. The loud-mouths, the strutters, the poseurs only proclaim their third-ratedness. Great writers, artists, politicians are too focused on the task to have time for pretension. Martin McGuinness was devoid of pretension. He was ordinary, charming, demanding  – of himself and others – and great.
It's a cliché but it's also true: I feel privileged to have known him, and proud to have put together the testimony of so many people who knew him better than me: Senator George Mitchell, Baroness Eileen Paisley, former chief adviser to Tony Blair Jonathan Powell, US Congressman Peter King, Gerry Adams, and Martin's life-long friend and neighbour, Mitchel McLaughlin. Among others.
The crowds at Martin's funeral a year ago showed the world the depth of pride and love the Bogside community had for this fearless and friendly man, the greatest of its sons.
Ar dheis Dé go raibh a anam dilis.