20 March 2018
Party leaders must provide leadership to members on the 8th - Louise O'Reilly TD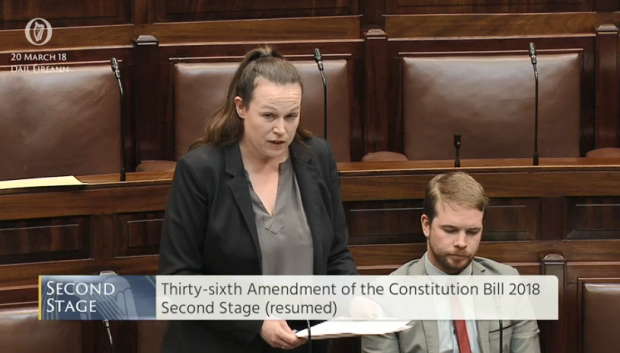 "The 8th Amendment should never have been placed in our constitution. It was a mistake and bitter experience over decades demonstrates this. We need only ask the masters of the maternity hospitals, the men and women we trust to look after women - our daughters and friends." - Louise O'Reilly TD
Sinn Féin's Health spokesperson, Louise O'Reilly TD has urged other party leaders to do as their job title suggests, and provide leadership to their members on the issue of the 8th Amendment.
Speaking this afternoon in the Dáil, the Fingal TD described the repeal of the 8th Amendment as "absolutely necessary" to ensure that Irish women have access to "proper and appropriate healthcare". 
Teachta O'Reilly said:
"I would use this opportunity to call on the leaders of other parties to do what their job title suggests and lead on this issue. The women of Ireland will not thank us if we do not provide leadership. They will not thank us if we use this referendum to score political points.
"The 8th Amendment should never have been placed in our constitution. It was a mistake and bitter experience over decades demonstrates this. We need only ask the masters of the maternity hospitals, the men and women we trust to look after women - our daughters and friends." 
Yesterday, Sinn Féin leader Mary Lou McDonald TD brought forward two proposals to the party's Ard Chomhairle. The first was to move the Ard Fheis from November to June and the second was a motion to go to that Ard Fheis which would amend party policy in line with the recommendation of the Joint Oireachtas Committee.
Teachta McDonald said:
"The party leadership backed both proposals and also finalised our campaign plan for the referendum.  For the next two months, the party will campaign passionately for the removal of the 8th amendment and then at our Ard Fheis in June our party members will debate and decide on our policy.
"I am well aware that within Sinn Féin, just as in wider society, there are mixed views on the issue of abortion. I accept that and I respect that.  We need to respect peoples' views but we also have to protect women and ensure that compassion prevails."
Also speaking in the Dáil this evening, Pat Buckley TD said that the 8th Amendment has "cost the lives, health and comfort of countless women". 
The Cork East TD said:
"We will never truly know the scale of the damage it has done over these 35 years but much of the medical evidence we have heard from experts in their fields lays bare the many pitfalls it set for doctors and the women they cared for.
"For many years politics and media chose to ignore these realities and the cost they bore on the women of Ireland. Those days are over thankfully. We now know the stories of the women who for 35 years were victimised by this law."