5 March 2018
Sinn Féin leaders in Brussels to meet Barnier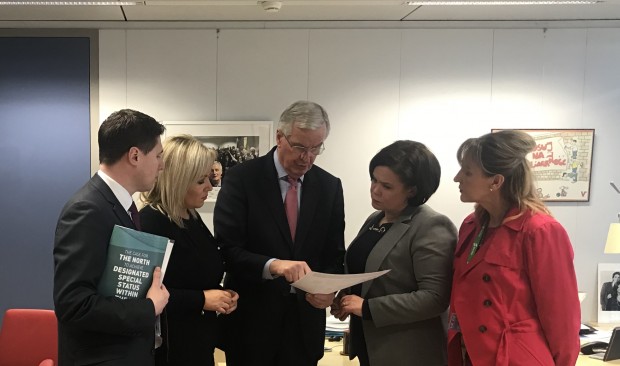 Sinn Féin leader Mary Lou McDonald led a party delegation to Brussels today to meet with the EU's Chief Negotiator on Brexit, Michel Barnier to discuss Brexit and special status. 
The Sinn Féin President was joined by vice President Michelle O'Neill and MEPs Martina Anderson and matt Carthy for the meeting with Michel Barnier and other engagements in Brussels. 
Speaking following the meeting with Michel Barnier, Mary Lou McDonald described it as "positive" and said that the EU negotiator restated that the Good Friday Agreement must be protected in all its parts during the ongoing Brexit negotiations. 
The Sinn Féin leader also said she and her party colleagues made it clear to Mr Barnier that the people of the north did not vote for Brexit and that they could not be collateral damage to the Tory Brexit agenda. 
She also called on British prime minister Theresa May and her government to come up with credible and workable proposals and reminded her that the backstop - which would see the north remain in the customs union - would kick in in the absence of any such proposals. 
The Sinn Féin leadership team also met with representatives of international embassies and permanent representatives of EU member states in Brussels to brief them on Brexit and the campaign for the north to secure special status within the EU. 
There was widespread media interest in the visit with the Sinn Féin leaders doing a round of interviews and taking questions from the international press at a press conference in the European Parliament.