26 February 2018
Thousands march for truth in Belfast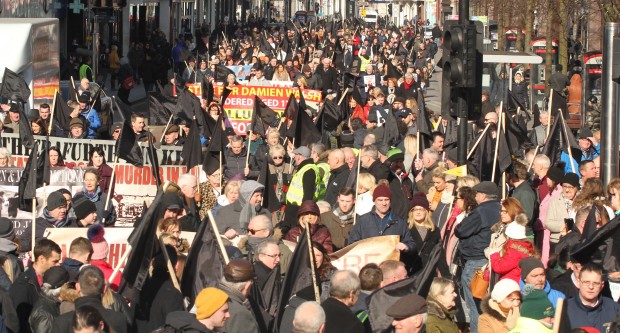 "It is unacceptable that some families have waited more than four decades for this most basic of human rights, the British government should move immediately to bring their suffering to an end." - Gerry Kelly MLA
Thousands of people marched through the streets of Belfast yesterday to call for truth and justice for victims of the conflict. 
TheTime for Truth march brought together families of those killed during the conflict, as well as victims' groups and their supporters to call for action for grieving families. 
Marchers started from a number of areas across Belfast before converging in the city centre in huge numbers for a rally outside Belfast City Hall. 
Many marchers carried portraits of loved ones killed during the conflict, including many killed by British state forces and their proxies in loyalist death squads. 
Public representatives from a number of political parties supported and took part in the march. 
Sinn Féin's Gerry Kelly said the British government must address the needs of victims. 
Thousands of people stood in support of the families and victims, some of whom have been waiting over forty five years for truth and justice. This issue is not going away," he said. 
The north Belfast MLA also called on the British government to release funding for legacy inquests. 
"The British government have a responsibility to start the consultation on the legacy mechanisms agreed at Stormont House more than three years ago and release the money necessary to the Lord Chief Justice to deal with the backlog of legacy inquests. After all the Lord Chief Justice stands outside of politics and is tasked simply with running the courts.
"It is unacceptable that some families have waited more than four decades for this most basic of human rights, the British government should move immediately to bring their suffering to an end," he said.