8 February 2018
Doherty legislation aims to make it a crime for bankers to lie to Central Bank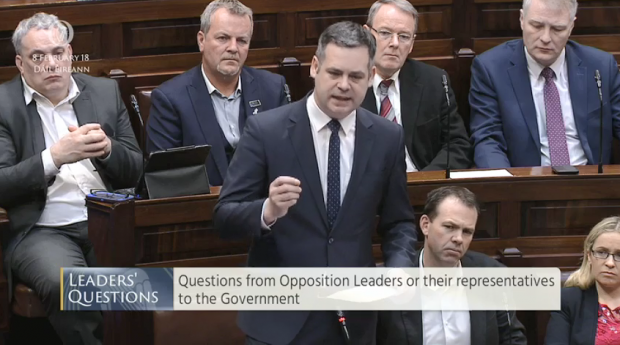 "Let's get real with this, let's get a grip on it. Let's bring the legislation in to make sure that bankers will never ever be able to do this again." - Pearse Doherty TD
Sinn Féin's spokesperson for Finance, Pearse Doherty TD, has urged Finance Minister Paschal Donohue to support his legislation that he will bring to the Dáil next week, which will make it a crime for bankers to lie to the Central Bank.
Speaking in the Dáil this afternoon Teachta Doherty made it clear to Tánaiste Simon Coveney TD, that even though the banks and the Government want the issue of Tracker Mortgages gone, it is far from over.
Teachta Doherty revealed that KBC and Ulster Bank admit openly that they still have thousands of customers on the wrong rate. Permanent TSB have put people back on the wrong rate and are not budging on the so called prevailing rate issue. Bank of Ireland is fighting with their own employees over what rate they are entitled to.
Teachta Doherty said: "Up to a hundred family homes have been stolen from working families by these banks, including state owned banks.
"There are 33,000 accounts affected, and more to come as the banks play silly buggers with the numbers every week."
The Central Bank began its formal Tracker Mortgage Examination in December 2015, with problems being identified as far back as 2010 by the bank.
The importance of the issue was ignored by Central Bank and Financial Services Ombudsman for years and it was left up to individuals and families to fight for their rights.
Just over two years later there are still thousands waiting to get their own money back.
Speaking passionately about the issue, Teachta Doherty laid out the three beliefs that the Government and the banks want us to have about the issue.
Firstly, we should believe that as tracker mortgages became cheaper for consumers – eleven lenders in this State all suffered from a system error or a lack of communication. 
Secondly, that the banks just happened to benefit from hundreds of millions while their customers lost out. 
And last but not least, that these errors just happened to occur at the time it was beneficial for the banks.
Teachta Doherty continued: "These are just a set of three handy coincidences which all happened to benefit the banks. I don't buy it, Minister.
"Yet nobody has been held responsible. The banks come into the Committee and they write letter after letter to customers apologising, but take no responsibility."
Even though the banks are recognising their wrongdoing when it comes to individual cases, they are still hounding their customers.
Teachta Doherty spoke about a phone call he received just last night from a man who lost his home as a result of the tracker mortgage scandal, and that the bank is still fighting with him tooth and nail.
Teachta Doherty concluded: "I will bring forward legislation next week which will make it a crime for bankers to lie to the central bank – which they have been doing, which means they will face a term of imprisonment. Will you oppose that also?
"Let's get real with this, let's get a grip on it. Let's bring the legislation in to make sure that bankers will never ever be able to do this again."