1 December 2017
Days of Fine Gael and Fianna Fáil completely dominating politics is over, says Gerry Adams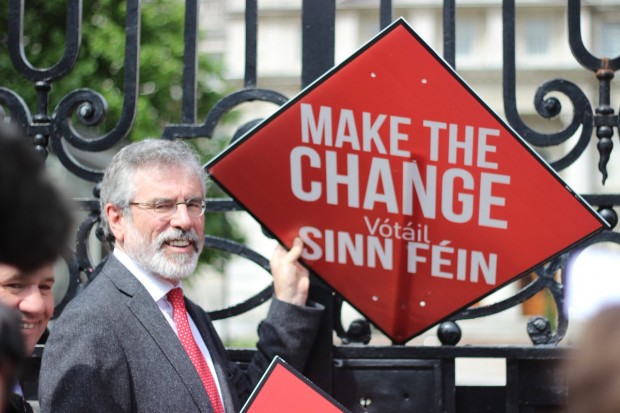 'There isn't an iota of difference between Fine Gael and Fianna Fáil'
THE CRISIS that saw the forced resignation this week of former Justice Minister Frances Fitzgerald as Tanaiste is proof that "the days of Fine Gael and Fianna Fáil completely dominating politics is over", Sinn Féin President Gerry Adams told a crowd of several hundred people in Cork City on Wednesday night.
Gerry Adams had addressed a large crowd in Dublin City Centre the previous evening where there was standing room only in Wynn's Hotel (pictures below).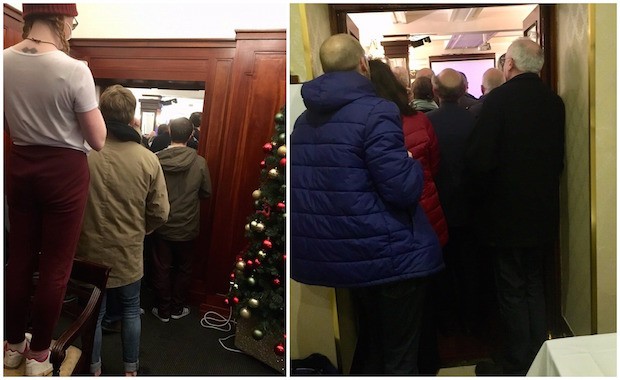 In Cork City on Wednesday, describing Fine Gael and Fianna Fáil as "champions of economic and social conservatism, austerity and cuts to the living standards of working people", the outgoing leader of Sinn Féin said that "there isn't an iota of difference between Fine Gael and Fianna Fáil".
The Dáil deputy said that Taoiseach and Fine Gael leader Leo Varadkar failed to show any leadership and refused to hold the Tánaiste to account.
"The handling of this debacle has highlighted his poor judgement," Gerry Adams said, adding:
"There are clearly many more questions to be answered, including around the role of current Minister for Justice, Charlie Flanagan, the withholding of information from the Charleton Tribunal, and the collaboration between the Department of Justice and the Garda to smear Sergeant Maurice McCabe."
● Kate Kelly, Louise Murphy, Gerry Adams TD and Liadh Ní Riada MEP at the Cork City meeting
He said that while Sinn Féin sought to hold former Garda Commissioner Nóirín O'Sullivan to account, both Fianna Fáil and the Fine Gael/Independents Government "offered her unquestioning confidence".
Gerry Adams continued:
"This last week was the first real test of the Taoiseach's leadership. He failed that test.
"The same lack of accountability and bad governance and incompetence is evident in the refusal to end the housing crisis; the crisis in homelessness, and the crisis within our health services.
"But more and more people now know this. They are looking for an alternative. Sinn Féin is that alternative.
"Sinn Féin is the only party that can lead a government to transform the political, social and economic life of citizens."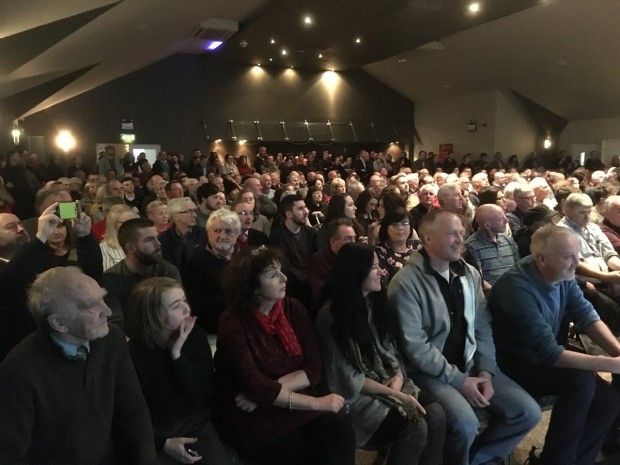 ● Part of the crowd at the Cork City meeting
The task of mobilising and registering the "thousands upon thousands of citizens who do not vote" must be a priority, he said.
"This is essential to ensure that we win the referendum on the Eighth Amendment."
He added:
"We must persuade more and more people that Sinn Féin's vision of a more equal, socially just and united Ireland is achievable."