6 October 2017
Women footballers' victory a great result for teamwork and union, conference hears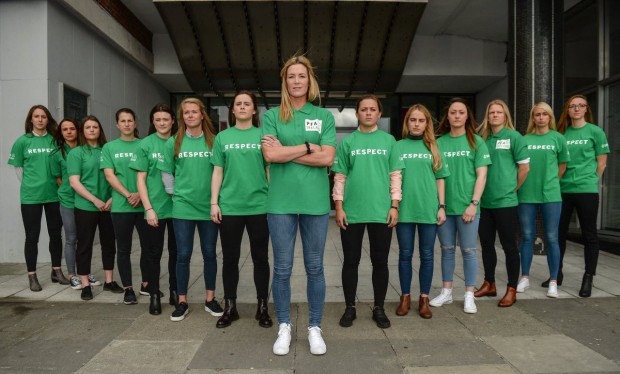 Ireland international captain Emma Byrne and her colleagues have shown that victories that can be won through collectivisation
THE IMAGE of SIPTU and trade unions has been transformed for many young women by the success of its members in the Ireland women's national soccer team in securing better conditions, the union's incoming SIPTU Deputy General Secretary, Ethel Buckley, told delegates at its Biennial Delegate Conference in Cork on Thursday.
Addressing delegates in Cork City Hall the day before crucial World Cup matches by the Irish men's international team, Ethel Buckley, said:
"We must take heart from recent victories won by our members. In the Clerys workers' struggle for justice, to the rising up of the community of Westport to support the Hastings Garage workers, to the courage of the young women of the Irish national football team in saying they wanted respect for wearing our country's jersey.
"The stance taken by international captain Emma Byrne and her colleagues has brought the message of the victories that can be won through collectivisation – and, very importantly, collectivisation with the support of our union – to a new audience of young people, women in particular.
"This victory changed what SIPTU means to them. It has also provided a new iconic image of Liberty Hall: that of a group of young, determined women standing boldly outside the home of Irish trade unionism in green T-shirts – with one simple, clear demand – to be respected as athletes and workers."
Ethel Buckley also welcomed the vote by conference delegates to support overwhelmingly a motion for their union to support the call for a referendum to repeal the 8th Amendment.
She added:
"Uniting the fights for workplace and gender equality is just one example of how we must combine struggles in a manner which will strengthen our union and encourage many more to organise alongside us."