2 October 2017
The voice of the Catalan people must be respected – Gerry Adams TD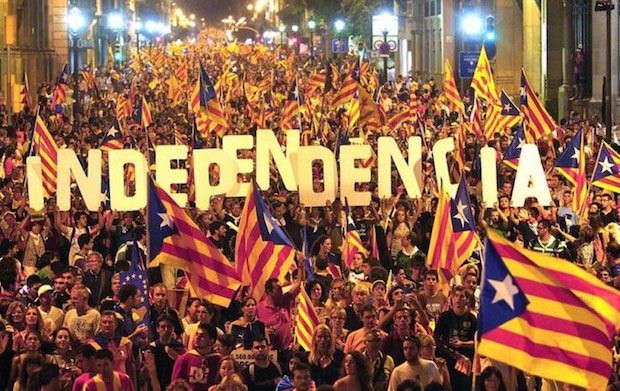 'The Catalan people have spoken and their voice must be respected by the Spanish Government and the international community'
GERRY ADAMS has welcomed Sunday's independence referendum in Catalonia and said "their voice must be respected by the Spanish Government and the international community".
Early on Monday, the Catalan Government reported that Catalonia has overwhelmingly voted for independence from Spain, with 90% (2,020,144) of more than two million votes in favour and 7.87% (176,565) against.
Another 15,000 ballots had still to be counted. An estimated 770,000 votes were unaccounted for after ballot boxes were seized by Guardia Civil paramilitary police acting for the Madrid Government.
Nearly 900 voters were injured by police plastic bullets and baton charges against street protests as well as attacks on polling stations.
Local Catalan police and firefighters confronted Spanish police hurling voters to the ground, including people who were elderly and infirm.
A Sinn Féin parliamentary delegation (MEPs Martina Anderson and Lynn Boylan, Eoin Ó Broin TD, and Senator Trevor Ó Clochartaigh) was among the international observers in Catalonia for the elections.
Speaking on Monday morning, Sinn Féin leader Gerry Adams said:
"The Catalan people have spoken and their voice must be respected by the Spanish Government and the international community."
He said that the people of Catalonia had faced violent repression from the Spanish state over the previous 24 hours.
"Despite this attack on the democratic process, Catalans have voted for their independence," the TD for Louth said.
"The international community – especially the European Union – has an obligation to ensure that Catalonia can pursue the course of self-determination without fear.
"They must also hold the Spanish authorities to account for the violence that has been carried out against the Catalan people."
He added:
"The Irish Government should be to the forefront in defending Catalans' right to decide their own future."
Catalan President Puigdemont said in a statement issued on Sunday after polling stations had closed:
"The situation created in Catalonia has been the result of intransigence and repression, of an absolute denial of reality, and evident hostility when dealing with our citizens' democratic demands.
"It is no longer an internal affair. It is an issue of European concern, which calls upon the founding values of the project of peace, freedom, harmony and democracy we have been building for decades with a broad range of voices.
"Today, Catalonia has won many referendums.
"We have earned the right to be heard, to be respected and to be recognised.
"Today, millions of people facing all sorts of difficulties and threats took to the streets, they spoke loud and clear and addressed a message to the world: We have the right to decide our own future, the right to freedom and we want to live peacefully, without violence and outside a state that is not capable of offering any convincing reason other than the use of brute force.
"For this reason, after a day full of hope but also of suffering, the citizens of Catalonia have won the right to have an independent state to be established in the form of a republic. Consequently, the Government that I preside over will present today's results to the Parliament of Catalonia, where the sovereignty of our people resides, so it can proceed in accordance with the referendum law.
"Today, after a day marked by the dignity of the millions of people who made it possible, Catalonia has gained its sovereignty and respect. The Catalan institutions have the duty to respect and implement the choice citizens have made and to honour it with the commitment to collectively build a free, peaceful and democratic country with dignity."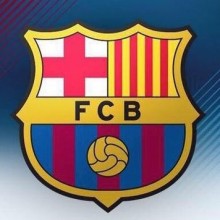 Barcelona FC played Sunday's home match against Las Palmas behind closed doors in protest at the Spanish league's refusal to postpone the game despite the crisis across Catalonia.
The club – which had been threatened by league authorities in Madrid with a substantial points reduction if it didn't play – said in a statement shortly before Sunday's kick-off:
"FC Barcelona condemns the events which have taken place in many parts of Catalonia today in order to prevent its citizens exercising their democratic right to free expression.
"Given the exceptional nature of events, the board of directors have decided that the FC Barcelona first-team game against Las Palmas will be played behind closed doors following the Professional Football League's refusal to postpone the game."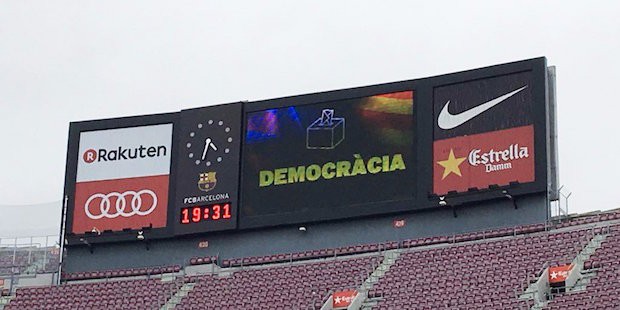 ● Scoreboard at Barcelona FC on Sunday and posted by the club on social media