22 September 2017
Centenary of the death on hunger strike of Thomas Ashe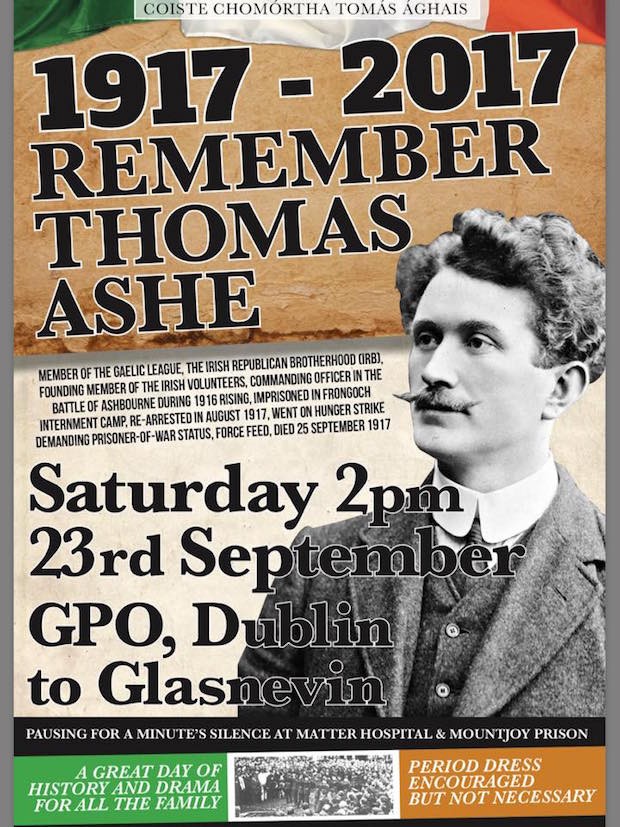 THE first Irishman to die on hunger strike was Thomas Ashe, who died at the age of 32 on 25 September 1917 as a result of being forcibly fed in Mountjoy Prison, Dublin. 
Born in Kinard, near Dingle in County Kerry, on 12 January 1885, Thomas Ashe learned the Irish language from his father and kept a life-long interest in Irish culture and history. 
Whilst training to be a teacher in County Waterford, Thomas became active in the Gaelic League, organising Irish classes and feiseanna and at the same time began his involvement in the Irish Republican Brotherhood and Sinn Féin. 
After qualifying as a teacher in 1907, he spent a year in his native Kerry until he became principal of Corduff National School at Lusk in County Dublin, where he taught until Easter 1916. 
At Lusk he was closely involved in the Gaelic League, becoming a member of its governing body along with Seán MacDermott, Sean T. O'Kelly, Eamonn Ceannt and The O'Rahilly who, like Ashe, were also members of the Irish Republican Brotherhood (IRB) 
Thomas Ashe joined the Irish Volunteers after its formation in November 1913 and founded a unit in the Lusk area. By 1915 he was training the local Volunteers on intensive military exercises and manoeuvres; by 1916 he was Officer Commanding the 5th Dublin Battalion in the north county area known as Fingal. 
● Read more here