14 June 2017
Video: Attack on Liverpool Irish bar during loyal order parade
Pub is a regular target of unionist provocation over the years
AN ATTACK on a Liverpool Irish pub during an Apprentice Boys of Derry parade on Saturday occurred when organisers and unionist bands taking part lost control of their followers, Cairde na hÉireann has said, citing video evidence.
Irish community and solidarity group Cairde said that the Liffey Bar on Renshaw Street has been regularly singled out for provocative displays during parades over the past ten years.
Almost every band strikes up The Sash My Father Wore as they pass by, Cairde said, as bands play louder to incite their followers to chant and gesture at the bar.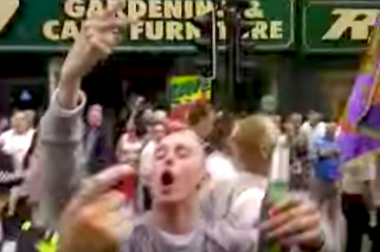 ● Screenshot of unionist parade stopping at Liffey Bar, 2008
Cairde said that video footage clearly shows loyalists (women and men) making determined efforts to enter the bar and the doors having to be defended and then closed to prevent violence and injury to customers.
Liverpool's Provincial Grand Orange Lodge maintained that  "neither the organisers or participants in the event" were involved in the "alleged violent incident".
Film evidence of the actual incident, however, clearly shows it did take place and senior members of unionist bands are seen trying to stop other uniformed band members from joining the attack (see screenshot below).
There were two arrests.
A spokesperson for the Provincial Grand Orange Lodge group told the Liverpool Echo:
"The officers of the Liverpool Provincial Grand Orange Lodge has been made aware of an alleged violent incident that has been linked to a parade passing along Renshaw Street on Saturday evening.
"We would like to emphasise that the Orange Institution were neither the organisers or participants in this event.
"We do not condone violence in any form in support of any religion or cause whilst always supporting the rights of legitimate groups to walk the streets of our city."
◼︎ Cairde na hÉireann Liverpool asks that any person subject to racist or sectarian abuse to personally report it via the STOP HATE helpline 0800 138 1625.