1 June 2017
Loughinisland victim's daughter calls SDLP attacks on Chris Hazzard 'disgusting'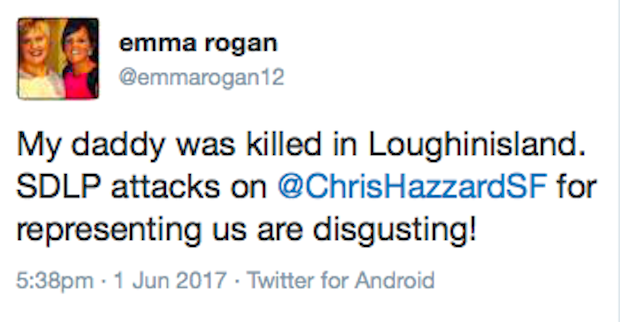 One of the weapons had been brought in from apartheid South Africa by the notorious British Army Intelligence agent, Brian Nelson – no one has ever been convicted for Loughinisland
THE DAUGHTER of one of the six men murdered in the 1994 UVF Loughinisland 'World Cup Massacre' has described SDLP social media attacks on Sinn Féin South Down candidate Chris Hazzard for missing an SDLP Assembly vote because he was meeting the Secretary of State on Loughinisland and collusion as "disgusting".
"The SDLP have been told countless times about that meeting, including just this week," Chris Hazzard said. "They knew and decided to plough on ahead."
Adrian Rogan was one of the six men shot dead by the unionist death squad on 18 June 1994 as they watched Ireland play Italy.
Adrian's daughter, Emma, tweeted in response to the SDLP's criticism on Thursday:
"My daddy was killed in Loughinisland. SDLP attacks on @ChrisHazzardSF for representing us are disgusting!"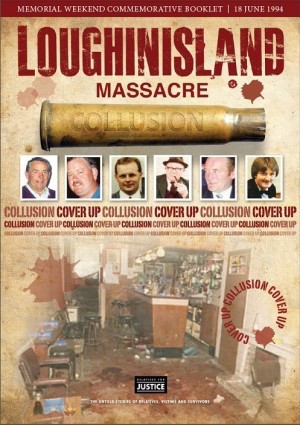 Adrian Rogan (34), Barney Green (87), Dan McCreanor, Eamon Byrne (39), Malcolm Jenkinson (53) and Patsy O'Hare (35) suffered multiple gunshot wounds after two masked UVF men burst into the small bar and fired up to 30 bullets from an AK-47 and a Czech-made rifle into their backs.
One of the weapons had been brought in from apartheid South Africa by the notorious British Army Intelligence agent, Brian Nelson. He was operating under the command and care of high-ranking military intelligence officers.
A Police Ombudsman probe later reported that the unionist murderers had been protected from investigation by RUC police officers and other members of state forces.
No one has ever been convicted for Loughinisland.
● Chris Hazzard with the late Martin McGuinness
Chris Hazzard and many others said the SDLP slurs this week are crass political opportunism.
SDLP MLA Sinéad Bradley had tweeted on Thursday while colleague Mark Durkan was feeling the pressure during a Stephen Nolan election interview on Radio Ulster that Chris Hazzard had missed an SDLP vote on Brexit in the Assembly.
Chris Hazzard, tweeting a direct reply to Sinéad Bradley, said:
"This is a crass attempt to play with facts – I was absent from Stormont as I was meeting British Govt on Brexit & Loughinisland Massacre."
He said the SDLP comments, endorsed by other SDLP figures, misrepresented his position on Brexit and in the process was "insulting the families of the Loughinisland Massacre".
Chris Hazzard called on his SDLP rival, Margaret Ritchie, who has supported the Loughinisland families in the past, to distance herself from her colleague's "crass, opportunistic comments".
The Sinn Féin South Down Westminster candidate said in an angry statement:
"Sinéad Bradley's comments today are outrageous and they are completely at odds with my record on Brexit.
"At the time of the vote on special status in the Assembly I was meeting British Secretary of State James Brokenshire.
"I was meeting him in my role as Infrastructure Minister and raised a number of issues with him, including the impact Brexit will have on the economy and infrastructure funding in the North.
"But, as importantly – and I am on the record about this – I raised with James Brokenshire insulting remarks made by his predecessor, Theresa Villiers, that claims of state collusion with loyalist paramilitaries in the Loughinisland Massacre were 'pernicious' and a 'deliberate distortion of the truth'.
"It beggars belief that I am being attacked for doing my job first as Infrastructure Minister but also as a South Down MLA.
"It is also extremely disrespectful to the Loughinisland families whose loved ones were gunned down by a loyalist gang working in collusion with British state forces.
"I am calling on Margaret Ritchie to distance herself from her colleague's crass, inaccurate and insulting comments, given her past support for the Loughinisland families."
Chris Hazzard added that Sinn Féin has been lobbying for the North to be afforded 'Designated Special Status Within the European Union' "and our TDs were able to secure a motion on Special Status for the North in the Dáil".