2 May 2017 Edition
'Opening the Debate on Irish Unity' in England and Scotland
Sinn Féin MPs meet Irish Diaspora, supporters – and unionists – in series of public forums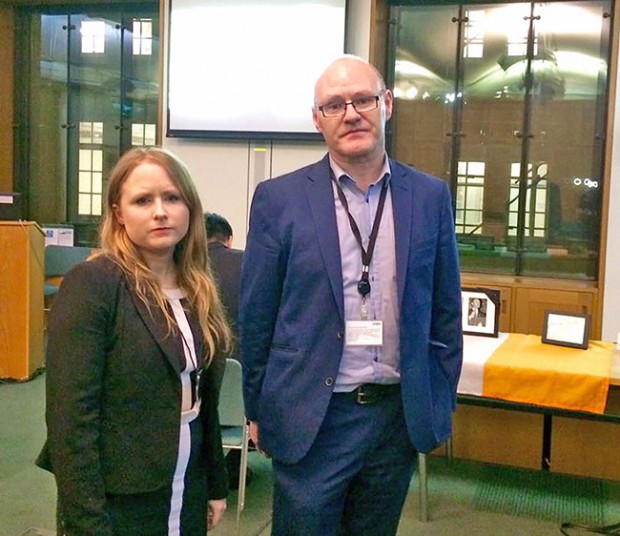 'Whether you are second-generation, third-generation or even fourth-generation Irish, whether you've been there for a long time or are newly arrived, join us in plotting a pathway forward'
IN THE WEEKS before British Prime Minister Theresa May surprised everyone by calling a Westminster general election, Sinn Féin MPs were engaged in an extensive series of public meetings across England and Scotland under the banner of "Opening the Debate on Irish Unity".
The opening phase covered the cities of London, Manchester, Liverpool, Edinburgh, and Glasgow, with Cairde na hÉireann's organisational strengths in Scotland and in Liverpool proving invaluable.
Plans to extend the range of venues at public request had to be suspended due to the Tory leader's snap election announcement.
London
The tour kicked off on 4 April with a standing-room-only audience packing into the Irish Centre in Camden.
They were there to hear West Tyrone MP Pat Doherty and Galway City Councillor Mairéad Farrell.
Pat Doherty explained the intention of the tour, saying that Sinn Féin has resolved that not only will the party have this debate in Ireland but that it will have it "within our Diaspora", particularly in England, Scotland, North America and Australia.
Manchester
Three days later and Newry & Armagh MP Mickey Brady was in the Ulster Gallery of the Irish World Heritage Centre in Manchester.
Noel Gallagher of the band Oasis once remarked:
"Manchester was just a great place to be – everyone I knew was second-generation Irish."
The building's foyer featured a display of Long Kesh POW craftwork and a photo exhibition on the lives of sisters Constance Markievicz and Eva Gore-Booth.
The evening's discussion once again saw a considerable turnout from the local community who were engaged in giving feedback as well as hearing firsthand from the Newry & Armagh MP about the current political situation.
Liverpool
That weekend, on Sunday 9 April, Mickey was in Liverpool for one more stop on the tour. 
Another famous musician summed up the Irish character of the Merseyside city.
John Lennon was in New York, before a Bloody Sunday protest there, when he reminded the media that he came from Liverpool – and in England, Liverpool was known as "the capital of Ireland".
The Liverpool-Irish community came out in numbers to the Sunday briefing in St Michael's Irish Centre. Mickey Brady fielded numerous questions and the discussion teased out the possibilities of what a united Ireland could look like and what it will tangibly deliver for all its people.
The previous day, Saturday, Mickey had joined Banna Fliuit Learpholl (the Liverpool Irish Patriots Republican Flute Band) on their annual Easter Rising commemoration along the Scotland Road.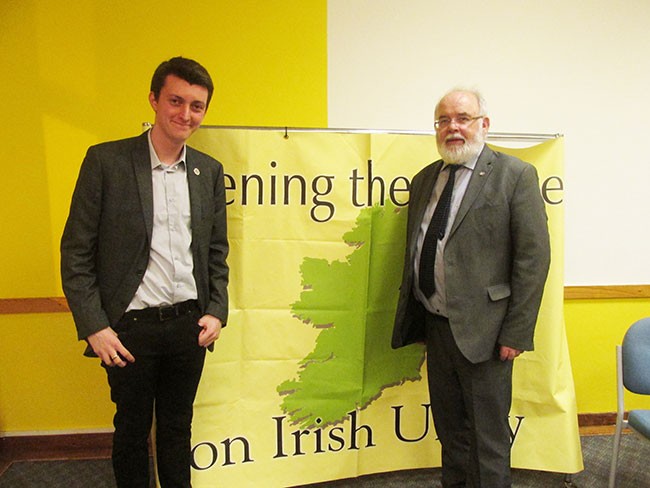 • Tour organiser Joe Dwyer with Francie Molloy MP
Scotland
Threats to staff at venues, to organisers and the public in general by hardline unionists, anti-independence elements and street thugs attached to the Scottish Defence League were followed up with menacing protests in Scotland. 
Nevertheless, successful forums in Edinburgh and Glasgow still went  ahead  with huge help again from Cairde na hÉireann.
In Edinburgh (11 April), the threats and protests were accompanied by attempts to have the meeting abandoned through fire alarms being set off to try and have buildings evacuated but all to no avail.
The Neanderthal hooligans of the SDL failed to deter even the pensioners' Bible class that was taking place in the same building as the Irish unity meeting was being held.
Francie Molloy MP said it was especially encouraging to see so many people turn out, given the circumstances. 
Francie told the audience before opening up the evening's discussion and Q&A:
"My father was born in Glasgow, in the Gorbals. Nearly every family in Ireland has some connections to Scotland and with the Irish community within Scotland."
The following day, the tour was in Glasgow where 50 protesters turned up in another failed bid to shut the meeting down, a meeting that included contributions from unionist perspectives.
Francie Molloy reflected:
"It was disappointing that a small, negative grouping felt the need to object to our presence here in Scotland – after all, who has anything to fear from a debate?
"Indeed, members of the unionist community actually did join us and contributed to the discussion. They expressed their opinions and even received a round of applause for attending. Now, we might not have converted them but we want to have that kind of rational discussion with everyone."
Starting point
Paul Maskey, MP for West Belfast, declared at the launch of the tour: 
"The campaign for a united Ireland needs to continuously attract allies and to build on its existing support. This is why we, as the Sinn Féin MP team, have set ourselves the challenge of engaging Irish communities, politicians, trade unionists and other progressive individuals right across our neighbouring offshore island. 
"We want them all in the debate."
He made an appeal to the Irish in Britain:
"Whether you are second-generation, third-generation or even fourth-generation Irish, whether you've been there for a long time or are newly arrived, join us in plotting a pathway forward. 
"No part is too great or too small."