13 April 2017
Fianna Fáil the big losers in faux water wars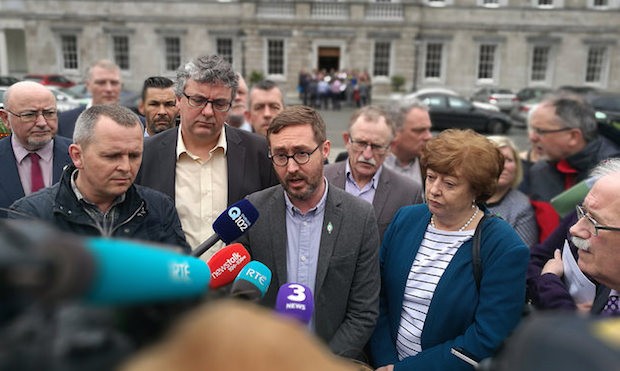 Crucially, the report calls for a referendum to enshrine public ownership of water and water services in the Constitution as a protection against privatisation
SO IT'S FINALLY DONE. After 11 public hearings and 10 private sessions (some lasting ten hours straight), the Oireachtas Water Committee has published its report.
Fine Gael, Fianna Fáil and two Independents supported it. Sinn Féin and the other Right2Water TDs opposed it, as did Labour and the Greens, though for very different reasons.
The spoils will have to be shared between Right2Water and Fine Gael.
The big losers are Fianna Fáil.
Much of the final content of the report was shaped by the five Right2Water TDs.
Our strength in the 20-member Water Committee came from the hundreds of thousands of people who have campaigned against water charges since 2014.
The Frankenstein monster that was 'Big Phil' Hogan's and 'AK47' Alan Kelly's water charges regime is gone.
Domestic water services will be funded through general taxation.
People who paid will get refunds.
Members of group water schemes will be treated equally.
Crucially, the report calls for a referendum to enshrine public ownership of water and water services in the Constitution as a protection against privatisation.
These were all key Right2Water demands. There is also a strong section on conservation.
The real drama came when the Water Committee reached the Expert Group Report recommendations on so-called excess use and metering.
Last month, Fine Gael was assuming Fianna Fáil support for two key proposals. But Fianna Fáil's Barry Cowen was playing his cards close to his chest.
Then came the bombshell.
This month, Cowen strode into private session and announced that Fianna Fáil was against mandatory metering and any metered charge based on above-average use.
The Blueshirts were apoplectic. Throughout the five weeks of private session, Fine Gael appeared badly briefed, uncoordinated and ill-equipped for the task at hand.
With a Right2Water/Fianna Fáil deal emerging, the hapless 'Team FG' ran to the Minister. Simon Coveney duly intervened, threatening to break the Confidence & Supply Agreement between Fine Gael and Fianna Fáil if he didn't get his way.
As neither side wanted a general election, they played for time, seeking an extension under the spurious pretext of seeking legal advice.
Two weeks were wasted and thousands of euros in legal fees spent on four conflicting and unhelpful legal opinions to add to the five already to hand. Then it was back to business.
Clearly under pressure, Fianna Fáil flipped for the first time, now supporting mandatory metering and charging for excess use. But the Green/Blue détente was short-lived. An acrimonious row broke out over whether to set the threshold at a household or individual average.
In this tetchy atmosphere, Right2Water seized our chance. We put a set of amendments to Fianna Fáil to ensure no water charges through the back door and no mandatory metering.
Cowen clearly wanted a deal with Fine Gael but his pride was bruised. Getting the Blueshirts to agree to anything was like trying to catch water in a sieve.
So Fianna Fáil flipped for the second time. A final draft report was agreed 12 votes to 8. Having lost the second quarter of the game, the Blueshirts ran crying a second time to Minister Coveney.
The would-be Taoiseach didn't disappoint. He sent a late-night missive to the Water Committee last Friday. The subtext was clear: 'Give me my meters and excess charge or I'll force a general election.'
The farce looked set to descend into tragedy.
Insults flew all weekend. Fine Gael's ever-inventive Alan Farrell thought it was a good negotiating strategy to insult Cowen's father and brother with his admittedly humorous Back to the Future movie poster adaptation.
When Monday came, the number crunchers in Fianna Fáil HQ knew the game was up. Mícheál Martin couldn't win a general election. Breaking yet another election pledge and humiliating Barry Cowen was a small price to pay.
So Fianna Fáil flipped for the third time.
Mandatory metering and the charge for excessive use were once again Fianna Fáil policy. Their poor delegation must have been dizzy what with their U-turns spinning into pirouettes.
Simon Coveney won the day, and not for the first time. Cowen puffed his chest and invited 'water wasters' to send him their bills (an invitation I'm sure won't be forgotten).
The final Water Committee report leaves the back door open to universal metered water charges. Sure, they will only apply to 10% of households at the start but, just like bin charges, that will surely change.
Fine Gael's Pyrrhic victory over their old rivals will be short lived, though. Just as Right2Water defeated 'Big Phil' and 'AK 47', so too will the Tall Lad for Cork feel the force of a risen people.
● Below: Last Saturday's massive Right2Water rally in Dublin reflected opposition to water charges