1 April 2017
April & Easter issue out now
Extra print edition copies available from (Dublin) 01 872 6100
APRIL & EASTER ISSUE of An Phoblacht is out now with a special 8-page supplement to mark the passing of our friend and comrade Martin McGuinness.
Martin McGuinness 1950-2017
"Don't Mourn – Mobilise"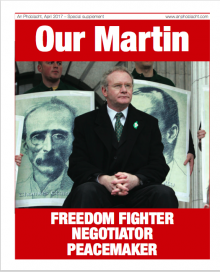 Special supplement includes . . .
Gerry Adams's funeral oration

'We are forever thankful to Martin McGuinness' – Michelle O'Neill MLA, Leader of Sinn Féin in the North

'A worker for reconciliation, a champion of peace' – Mary Lou McDonald TD, Sinn Féin deputy leader

'The beating heart of Irish republicanism' – Eoin Ó Broin TD
Inside the regular edition . . .
'No substantive progress' ends Stormont talks | Stormont – An agreement made must be an agreement implemented

Editorial | Eagarfhocal: Build a new Ireland in tribute to Martin McGuinness

Martin McGuinness: Final journey in the town he loved so well

Garda chief faces Dáil 'no confidence' motion

Beannacht leat a Mháirtín

Collusion – Britain still in denial over its death squads

Strike out! Trade unions and the media

Basque Country – ETA to decommission

The first Easter Rising commemoration
Behind Brexit lies another threat – Lynn Boylan MEP

Seanad Bill for votes at 16

Danny Morrison – Nailing a lie about Martin McGuinness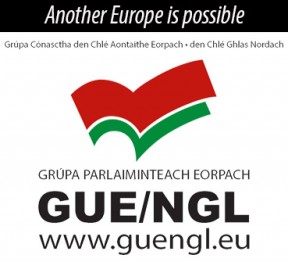 An Phoblacht on Twitter
Premium Online Service For Only €10 Per Year
For less than €1 a month, you get An Phoblacht's Premium Online Service. Sign up today!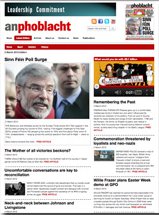 PREMIUM SERVICE:
Full access to all An Phoblacht articles
Interactive online PDF Booklet of each edition
Access to our historic Archives
Discounts for the Online Sinn Féin Shop
An initiative for dialogue 
for reconciliation 
— — — — — — —
Contributions from key figures in the churches, academia and wider civic society as well as senior republican figures