1 April 2017
April & Easter issue out now
Extra print edition copies available from (Dublin) 01 872 6100
APRIL & EASTER ISSUE of An Phoblacht is out now with a special 8-page supplement to mark the passing of our friend and comrade Martin McGuinness.
Martin McGuinness 1950-2017
"Don't Mourn – Mobilise"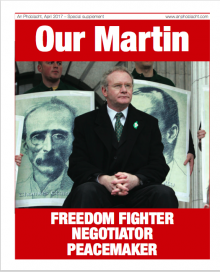 Special supplement includes . . .
Gerry Adams's funeral oration

'We are forever thankful to Martin McGuinness' – Michelle O'Neill MLA, Leader of Sinn Féin in the North

'A worker for reconciliation, a champion of peace' – Mary Lou McDonald TD, Sinn Féin deputy leader

'The beating heart of Irish republicanism' – Eoin Ó Broin TD
Inside the regular edition . . .
'No substantive progress' ends Stormont talks | Stormont – An agreement made must be an agreement implemented

Editorial | Eagarfhocal: Build a new Ireland in tribute to Martin McGuinness

Martin McGuinness: Final journey in the town he loved so well

Garda chief faces Dáil 'no confidence' motion

Beannacht leat a Mháirtín

Collusion – Britain still in denial over its death squads

Strike out! Trade unions and the media

Basque Country – ETA to decommission

The first Easter Rising commemoration
Behind Brexit lies another threat – Lynn Boylan MEP

Seanad Bill for votes at 16

Danny Morrison – Nailing a lie about Martin McGuinness